Light a candle for Bruno, give him hope with a sea of light.
We light, that our thoughts, prayers, good wishes are with Bruno.
We wish and hope that Bruno can quickly escape from his dark isolation room and spend his last days and death (diagnosed by a doctor) in dignity and freedom. That his last wish comes true and that he can spend this time in his beloved Highlands and stay there forever.
We support the request that Chancellor of Germany MERKEL (CDU) and Prime Minister of the Black Forest KRETSCHMANN (Greens - his antechamber 'we are informed about everything') grant Bruno medical treatment, food, human rights, right to life, "access to justice / assignment lawyer"; finally stop political persecution/torture/execution, their party friends, bureauKrauts, and accuse these torturers / criminals against human rights before the ICC / The Hague and keep their oath of office. Crimes against human rights and murder never expire!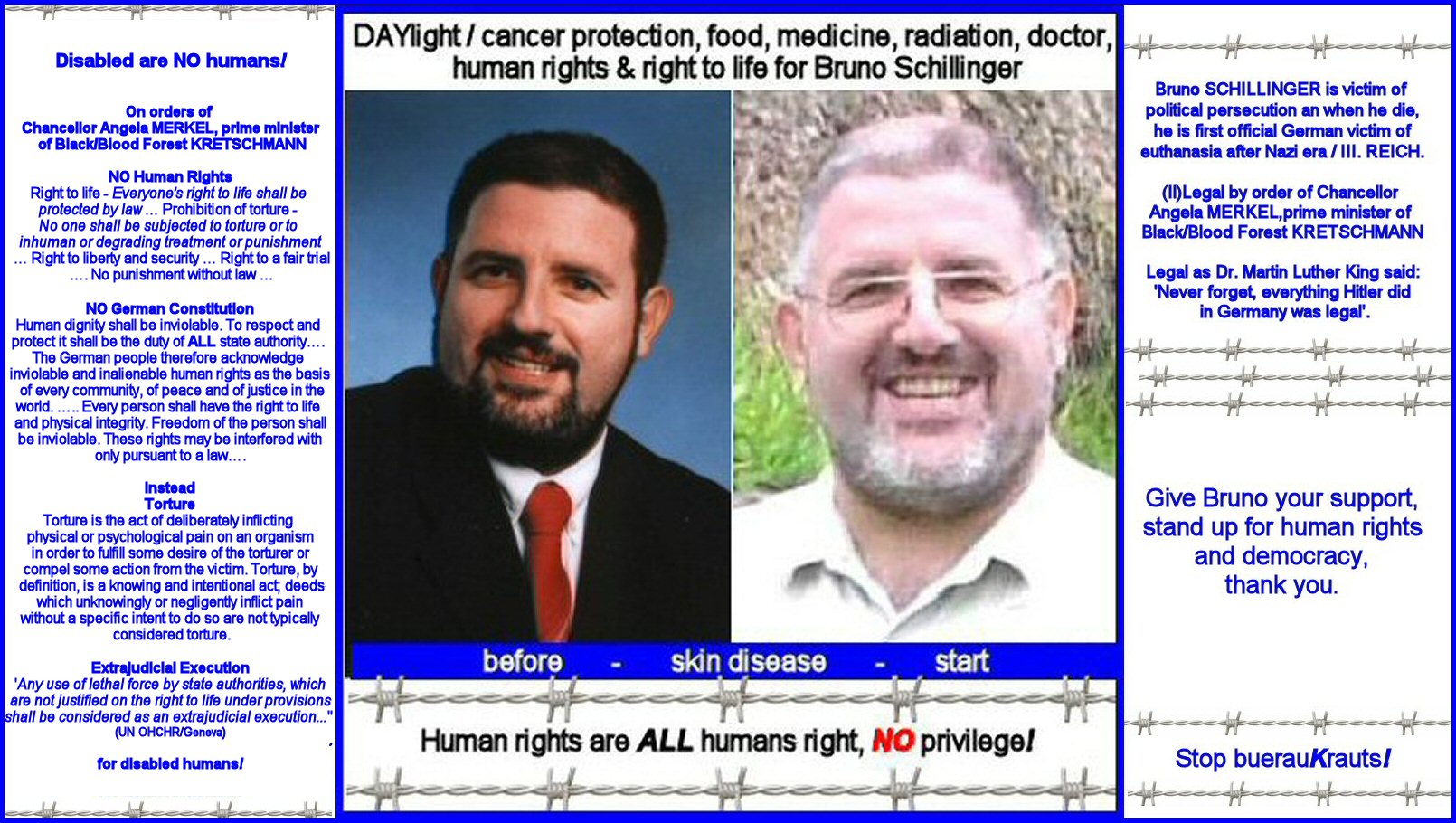 petitioning to  Chancellor of Germany MERKEL (CDU) and Prime Minister of the Black Forest KRETSCHMANN (Greens) 
Some Details
Why is Bruno political persecuted/tortured/executed?
* Just a story? No, all is documented on the Internet for years - with full names and without protest by those mentioned in politics, bureaucracy, justice. *  
A long story - it began in 2003 with the dubious, lonely death of his father and the entanglement of a politician (CDU) / officer / mayor, from embezzlement and counterfeit of the powers of attorney, no information to family about the several weeks of agony, lying to hospital, up to illegal cremation, anonymous burial without information to family.
Later: prevention of Bruno's work by his authority/jobcentre (confirmed in their own reports),
Followed by withdrawal of food, diabetes medicine, daylight cancer protection, radiation and so in 2009 causing eye and kidney damage (irreparable – laboratory figures ),
District office of Black Forest and his surveillance authority, lead by his party fellow, commanded a police raid to destroy
And an unknown authority send Bruno into torture prison without information/judgment/hearing – Police picked him up. Years before the politician tried same, but didn't work – prison said "no warrant, no prison", second attempt worked.
Up to euthanasia (Government lawyer "why are you still alive?" - What should I do if the KRETSCHMANN does nothing?"), by risk of Covid19 (very bad measured values: diabetes, pulse, blood pressure, breathing,… reduced food, ..... certainly no aid/support),
Ending with official/Nazi-Krauts language "handicapped people (disabled by authorities / politics) are axxxxxes / unworthy life / sub humans".  
- Prosecutors (political officials) embezzle criminal charges, cover up these official offenses such as attempted murder, etc., even SIEG HEIL shouting is legalized in this way. Police confirmed "The prosecutor automatically ceases all notifications." and committed with this sentence at least five offenses.
- Social court acts against laws, basic law, human rights and the Federal Constitutional Court (the highest German court),
- Other courts remain silent, ignore, embezzle and deny "access to justice" and "assignment of a lawyer" (necessary due to eye problems caused by the authorities).
- "The Murdering Six" a group of officials who deny Bruno's rights & all laws and carry out the torture / execution. e.g. RIESTERER did not provide first aid for the suffocation attack and then falsified the report and slandered Bruno. LITTER covered up this attempted murder and disregarded the permitted record (like supervisors / prosecutors). DALLMANN (Disability Officer and disabled himself) supports the "unworthy life" NAZI racism of her 525 colleagues in district office of Black Forest. Further torture by: no Covid-19 protection - no safe supply of food, medication - reduced statutory social benefits - no additional legal requirements for diabetes, kidneys, eyes, breathing, daylight cancer protection, for over 2 years, only pureed food due to jaw damage, etc. - not even cooling for diabetes medication (other got it) - all without justification.  
Our conversation offers "everyone on one and everything on the table" have been ignored for years, e.g. with "We don't have those (note: competent interlocutors) - where should we get them from?".  
Everything with the knowledge and so on command of German Chancellor MERKEL, Prime Minister of Black Forest KRETSCHMANN.  
Break - more in additions or by phone, etc.  
Bruno: I thank all from the bottom of my heart for lightning. I don't know as long I can fight, but I'll fight for constitution, human rights, the truth about my father's death against these corrupt, criminal officials, politicians.
I don't want to be a burden on my new home and therefore all costs (food, medical care, rent, etc.) have to be paid by Germany. This must be secured before I flee, otherwise the bureauKrauts will be happy that I am gone and do nothing more. I am looking for an organization / foundation that continues to enforce the claim for compensation for pain and suffering (e.g. prevention of work / career) even after my death and uses this money for the general public (social issues, forest, wildlife, etc.).  
We hope that your candles will become a sea of lights that German Chancellor MERKEL, Prime Minister of Black Forest KRETSCHMANN cannot ignore, such as the constitution, human rights and their oath of office and duties. And they allow, support the final departure/escape for medical treatment to reduce pain (e.g. cervical spine syndrome (out of therapy)) and death in dignity & freedom.  
We ask you to pass on this cry for a sea of lights and death with dignity and freedom. Everything is helpful, thanks.
Questions / advice: best direct to Bruno SCHILLINGER, Bachstrasse 1, D-79232 MARCH / Germany ph. +49 (0) 7665-930450 (GMT + 1) – aidforbruno (Bruno can't read/write due eye problems and technical support is ignored by authorities)
Sign this Petition
By signing, I authorize Bruno Schillinger and his last friends to hand over my signature to those who have power on this issue.