Stop The Migrant Channel Crossings
June 2021 was the worst month on record for illegal Channel crossings, with 2,100 arrivals. This graph, produced by Migration Watch, highlights the escalating scale of the problem by showing reported Channel migrant crossings for the first six months of each year, 2018-2021: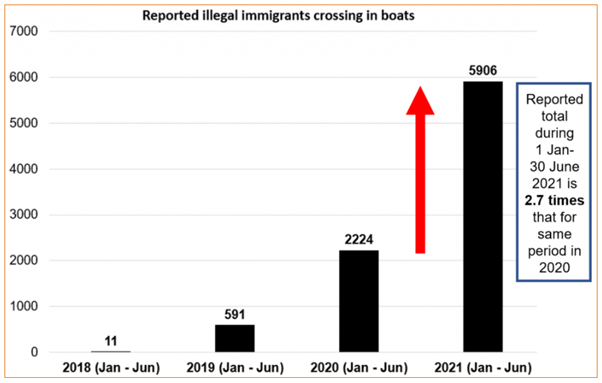 The likelihood is that about 20,000 migrants will cross the Channel from Europe in 2021, to add to the 46,000 who are known to have crossed over the previous three years. And these figures will significantly underestimate the problem because many others will enter the UK without being detected.
The government talks tough but fails to deliver. In October 2019 Home Secretary Priti Patel said these crossings would be an 'infrequent phenomenon' by the Spring, but in fact the numbers more than quadrupled between 2019 and 2020 and 2021 is set to be by far the worst on record. Furthermore, only one in every 42 illegal Channel arrivals is returned to the safe countries from which they came (as reported by Migration Watch in late 2020). The people-smugglers know that it has become easy for economic migrants (nearly all of whom are young men who choose Britain in order to join existing families and communities) to enter Britain. They also know that once in, it is easy to stay – at public expense.
The UK's borders are porous and unenforceable due to Britain's legal obligations under the Refugee (Geneva) Convention and the European Convention on Human Rights. The former empowers any migrant to enter the UK simply by asserting that he is an 'asylum seeker', no matter how bogus the claim. The latter then empowers economic migrants to bring multiple legal claims to prevent their detention and then removal on human rights grounds. The net effect is that people-smuggling is rife, Britain's borders are a farce and the government is simply lying when it claims to be able to solve the problem without denouncing these two international treaties.
UKIP calls on the government to regain control of its borders by withdrawing from the Refugee Convention and the European Convention on Human Rights.