To stop the Royal British Legion closing the 4 Break Centres across the UK and Handy van Service.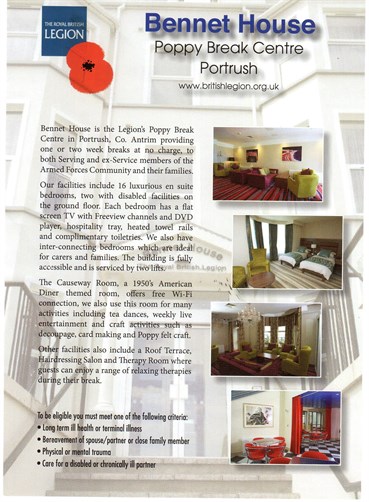 After their recent Stategic Review the Royal British Legion have proposed to increase the number of case workers to help beneficiaries.
In turn they plan to close the 4 UK Break Centres Alderson House, Bennet House, Byng House and Somerset Legion House along with the Handy Van Service.
The Break Centres provide an invaluable opportunity for members of the armed forces community to avail of an all inclusive break for some well deserved respite. A break can give someone a safe sanctuary to meet like minded people who have common ground and can provide those who normally live in social isolation a chance to socialise and open up and talk about things they wouldn't normally talk about.
The breaks are free of charge and there are specialised family breaks available for those who have young dependants. Millions of pounds is collected every year for the RBL Poppy Appeal. This in turn is used to help serving and ex service personnel and their families by providing help when they need it most!
By closing the Break Centres and Handy Van service they are depriving veterans of these vital services.
Please help us to save these fantastic facilities by signing the petition to stop what the Royal British Legion are planning to do!