STOP 5G Mast - Peabody Hill, London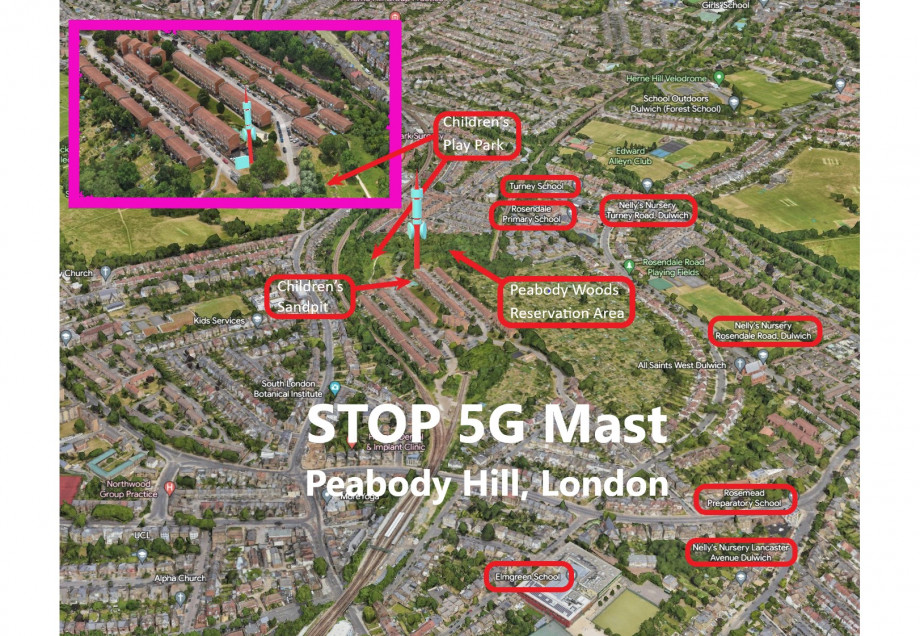 Waldon Telecom Ltd (on behalf of Cornerstone Telecommunications, Infrastructure Limited and O2) proposes building a 20m high 5G telecoms mast at Peabody Hill, London SE21 8LE.
Waldon Telecom only contacted a few residents for the planning consultation and submitted planning permission to Lambeth council on February 24th.
Please help us by signing this petition, adding your comments and sharing it.
The mast would devastate the character, views and biodiversity of the Peabody Woods/Conservation Area, an environmentally sensitive site within the estate.  The proposed location is also next to residential housing (closest 15m), the children's play park, the children's & toddler's sandpit park and the health/fitness area.  The residents and visitors regularly use the green patch where the proposed metal structure will be built.  It is on a green field for recreational, social and sports/fitness events and purposes.  The area is used for resident-organised, free yoga and fitness classes.  It is also the meeting point and picnic area for the parents and carers and their dogs while the children play in the surrounding area visible to the parents.  The proposed mast would tower over residents' homes, putting their property and health at risk and spoiling the enjoyment of people from miles around with their pets and children coming to play here.    
the proposed large and imposing metal structure would not blend in with the surrounding deciduous woodland
its elevated position would spoil views of the Peabody Woods from around Brockwell Park and beyond
it would tower over the homes of nearby residents, residents and visitors to children's play park, children's & toddler's sandpit park, health/fitness area and Peabody Woods, dominating their views and exposing them to possible health risks from 5G radiation
the unsightly mast and slabbed cabinet compound in the middle of the green field would spoil the enjoyment of people who gather there for exercise, well-being, socialising and observing wildlife
ground levelling work and construction would disturb local wildlife, including some protected species
it would have a negative impact on the biodiversity of this local conservation site as birds, animals and insects could enter the exclusion zone and be directly exposed to 5G radiation 
We are asking you to show your support now and help us to stop this mast from being built. Please sign and add your comments to make your voice heard – and spread the word by sharing this petition.
 Your Support Makes the Difference, please;