Pavements on popular walking routes in Eccleston, Lancs
Over the last 12 months we have seen the informal creation of popular routes for walking, cycling and running on our country lanes in Eccleston, Heskin and Mawdesley.  It has been wonderful to see so many people out, young and old, exercising and enjoying the countryside that surrounds our villages.  However, as the lockdown has eased and car use has increased, a number of these havens are becoming dangerous. 
We want to encourage and maintain the high levels of people out exercising on our lanes but to do this, it MUST be safe.  The best way to do this is to create pavements on some of the popular routes.  
We want to see the creation of new pavements on popular walking/exercise routes in Ecceston/Heskin on the following routes;
ROUTE 1: From the Green, up Bannister Lane to the Heskin Hall pathway.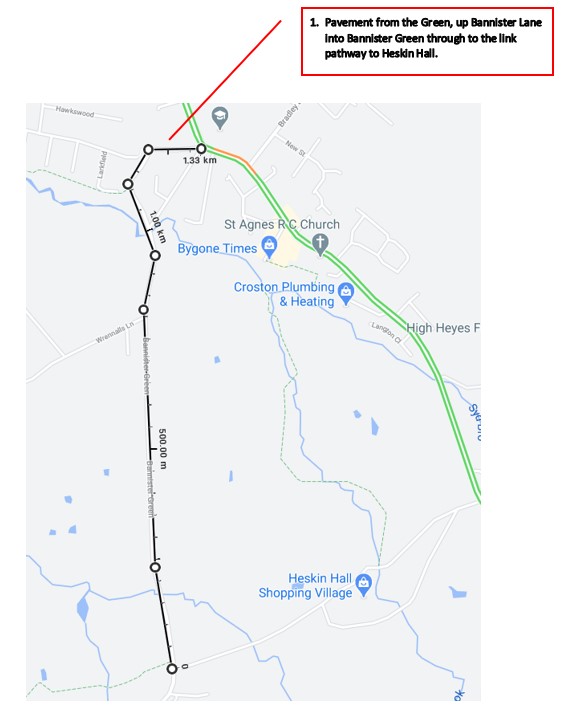 ROUTE 2: From St Marys Church, up New Lane to Gilsons Garage.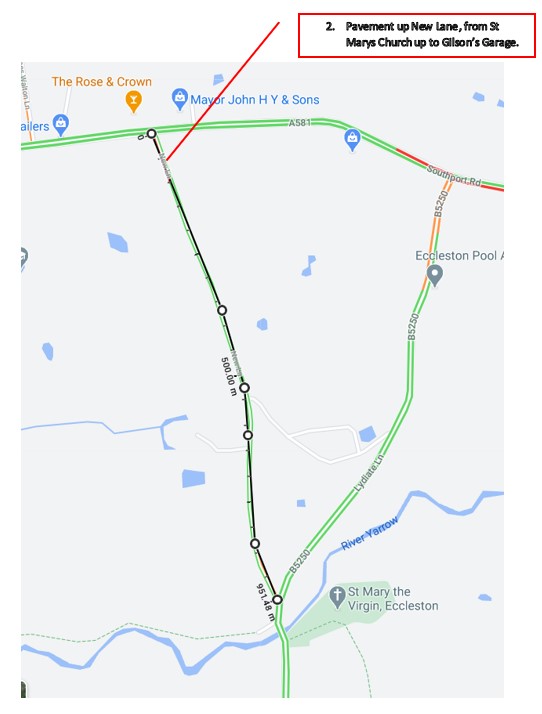 ROUTE 3: From Eccleston Cricket Club to the former Robin Hood Pub.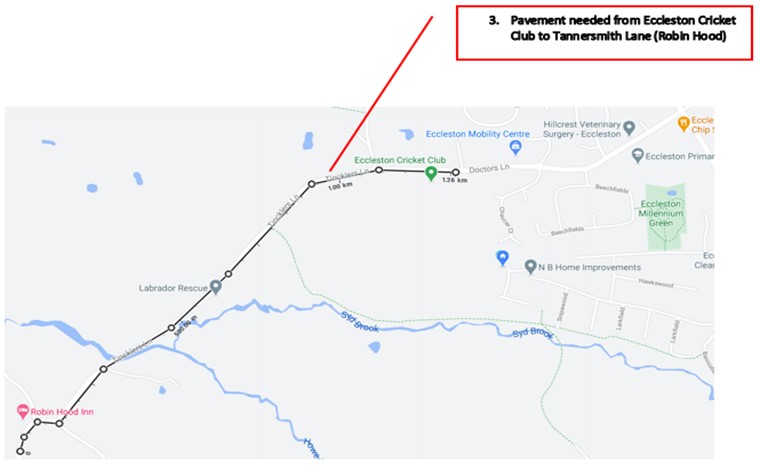 ROUTE 4:  Up Bradley Lane (past the rec) and onto Red Lane to pick up the footpath leading to Heskin.
Sign this Petition
By signing, I authorize Michelle Urwin to hand over the information I provide on this form to those who have power on this issue.
---
Is there something you want to change?
Change doesn't happen by staying silent. The author of this petition stood up and took action. Will you do the same? Start a social movement by creating a petition.
Start a petition of your own
Most popular petitions in last 30 days
We the undersigned petition the National Trust to stop offering the 'Quick Vote' option to members voting online at the AGM and to disclose the 2022 Quick Vote voting numbers. In 2022 members logging in to the online AGM page were invited to tick the 'Quick Vote' box to vote for all seven candidates for the ruling Council which the Trust recommended and against every Members' Resolution it disliked.  'Quick Vote' was even presented as 'Option 1', ahead of proper voting. The result was that every
Created: 2022-11-09 Statistics
| Time period | All countries | United Kingdom |
| --- | --- | --- |
| All time | 601 | 582 |
| 30 days | 601 | 582 |
I object to the Caffeine and Machine Planning Application (Application No: 22/01011/FUL) to convert the Knockerdown Pub into a functions and events venue for motorbike and motorcar enthusiasts on the grounds On the grounds of increased car and motorbike traffic on B5035, Dam Road and local road network, increased vehicle and unregulated music noise,  unsuitability of location and sustainability. The proposed change of use will change the character of the Knockerdown (previously run as a very suc
Created: 2022-10-25 Statistics
| Time period | All countries | United Kingdom |
| --- | --- | --- |
| All time | 446 | 439 |
| 30 days | 401 | 396 |
On Tuesday 18th October 2022 MPs voted in favour of 150m buffer zones around all abortion clinics in England and Wales and criminalising acts of witness within them. The new clause adds an 'Offence of interference with access to or provision of abortion services' punishable by six months in prisonIt says: '(1) A person who is within a buffer zone and who interferes with any person's decision to access, provide, or facilitate the provision of abortion services in that buffer zone is guilty of an
Created: 2022-10-21 Statistics
| Time period | All countries | United Kingdom |
| --- | --- | --- |
| All time | 336 | 330 |
| 30 days | 333 | 327 |
The Coast and Vale Learning Trust took control of Lady Lumleys' School in Spring 2021 and decided to change the school's 75 year old badge from this: To this - the Disney version: Lady Lumleys' coat-of-arms is essential to the identity and the history of the school founded by Lady Lumley in 1657.  Generations of our community have proudly worn this badge. Changing it without consulting either staff or students, both past and present OR the Lady Lumley's family, is disrespectful to the memory o
Created: 2022-09-25 Statistics
| Time period | All countries | United Kingdom |
| --- | --- | --- |
| All time | 957 | 948 |
| 30 days | 309 | 309 |
The Suffolk Green, Lib Dem and Independent Group, the elected opposition at Suffolk County Council, are seeking 3,675 signatures to sign our petition. £5,000 for a pair of dropped kerbs? £7,500 to cut down a single tree? £10,000 to design four humps in a road (not even to build!)? These are just some of the astonishing quotes Kier charge for Suffolk highways maintenance. Since 2013, Suffolk County Council have been outsourcing highways maintenance to Kier, an infrastructure company that won a
Created: 2022-05-05 Statistics
| Time period | All countries | United Kingdom |
| --- | --- | --- |
| All time | 933 | 928 |
| 30 days | 172 | 172 |
LET'S GET LAMBETH LTN's CANCELLED!!! Lambeth council UNLAWFULLY disregarded THOUSANDS of residents' complaints?! LTNs were purportedly introduced in Lambeth to encourage "active travel"?!! However London driver miles INCREASED London drive miles by 41 million/11.4% in 2021 - Dept for Transport figures. LTNs must end!!! 2011 LOCALISM ACT: States if over 5%/17, 000 of Lambeth residents sign this petition, The 2011 Localism Act can be used to CANCEL Lambeth's current corrupt right-wing cabinet!!! 
Created: 2022-10-28 Statistics
| Time period | All countries | United Kingdom |
| --- | --- | --- |
| All time | 129 | 128 |
| 30 days | 129 | 128 |
We have learnt that a company called Exton Energy is planning to build a solar farm on 81 hectares of land in the fields right next door to Barnsdale Gardens. As vital as renewable energy is, there are better local fields to place this where the constant noise of the motorised panels, as they follow the sun, will not be the overriding factor ruining the peace for our visitors and wildlife and may force the closure of Barnsdale Gardens. I would be very grateful for your support to block this dev
Created: 2022-08-02 Statistics
| Time period | All countries | United Kingdom |
| --- | --- | --- |
| All time | 819 | 805 |
| 30 days | 85 | 83 |
Rape and coercive/controlling behavior is one of the most disgraceful crimes against a partner/spouse.   But,   When a partner/spouse makes false allegations of these kind of crimes against a partner/spouse for revenge, anger or spite the impact can be devastating mentally, emotionally and effect their whole life.   When these kinds of allegations are proven to be false we demand that the police and authorities to do more to prosecute the offender.   Help us make sure that no innocent person sho
Created: 2022-06-01 Statistics
| Time period | All countries | United Kingdom |
| --- | --- | --- |
| All time | 2565 | 2556 |
| 30 days | 75 | 75 |
June 2021 was the worst month on record for illegal Channel crossings, with 2,100 arrivals.  This graph, produced by Migration Watch, highlights the escalating scale of the problem by showing reported Channel migrant crossings for the first six months of each year, 2018-2021: The likelihood is that about 20,000 migrants will cross the Channel from Europe in 2021, to add to the 46,000 who are known to have crossed over the previous three years.  And these figures will significantly underestimate
Created: 2021-07-15 Statistics
| Time period | All countries | United Kingdom |
| --- | --- | --- |
| All time | 1738 | 1699 |
| 30 days | 57 | 57 |
To all Politicians & to whom it may concern The The Digital ID or Vacination Pass / Auschwitz Pass is a crime against Humanity.I oppose this with vigour! We will not be subject to this Holocaust Edwin Black is the New York Times bestselling and award-winning author of IBM and the Holocaust. This is an excerpt from his book: IBM & the Holocaust "In August 1943, a timber merchant from Bendzin, Poland, arrived at Auschwitz. He was among a group of 400 inmates, mostly Jews. First, a doctor
Created: 2022-11-23 Statistics
| Time period | All countries | United Kingdom |
| --- | --- | --- |
| All time | 45 | 33 |
| 30 days | 45 | 33 |
PetitionOnline.uk
We provide free hosting for online petitions. Create a professional online petition by using our powerful service. Our petitions are mentioned in the media every day, so creating a petition is a great way to get noticed by the public and the decision makers.