Martin needs a home with his best friend Rocky
Meet Martin & Rocky
He has been on the streets of Peterborough for nearly a year now and because he has his best friend Rocky (his dog) the Council's housing team will not house him, he is expected to give up is friend to have a roof over his head. A dog is part of the family and when you have nothing but the comfort of your best friend why should you be separated, it would break both Matins and Rocky's heart.
This petition is to tell the people with the power that we demand he is taken off the streets with Rocky. If you agree please sign and share this petition so we can give love and humanity to these amazing characters.
Thank you Big love & Hugs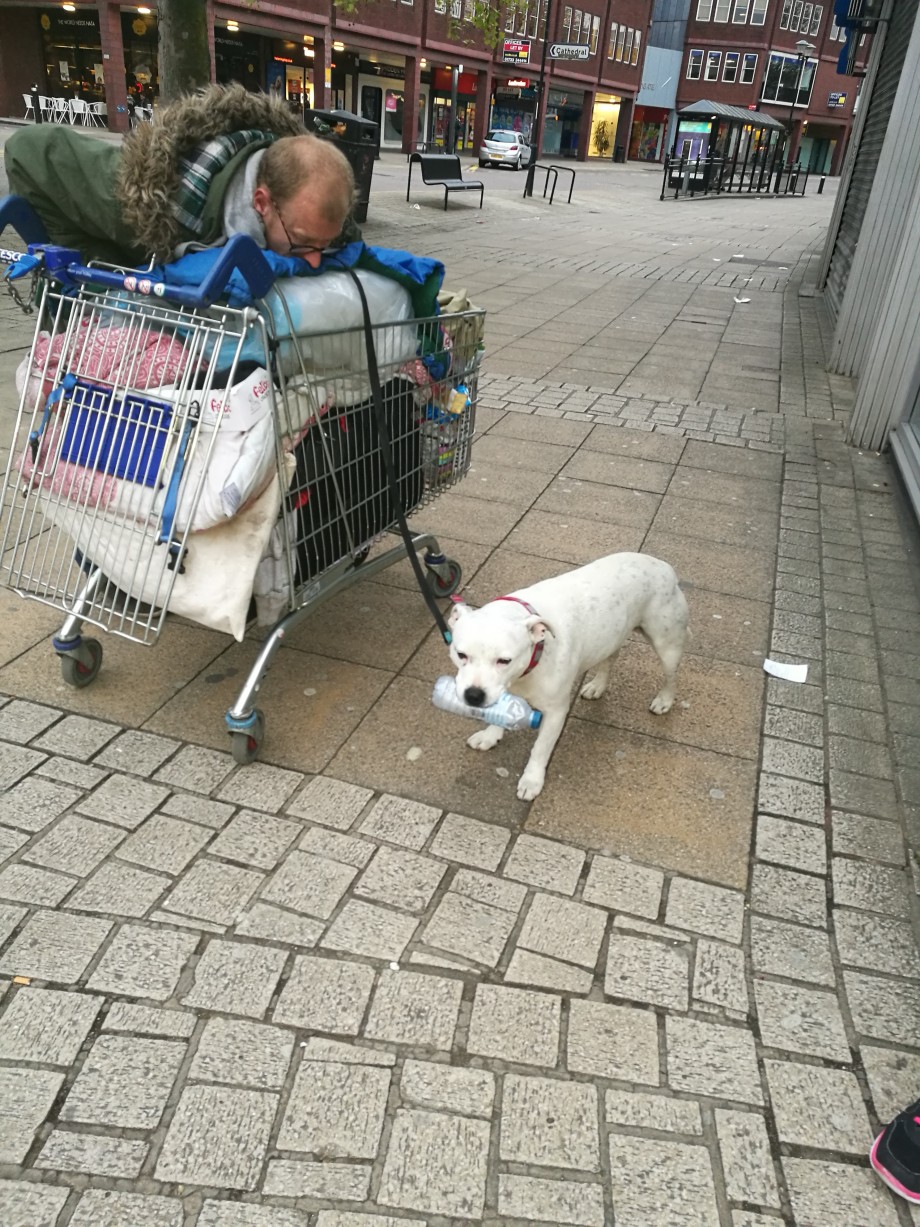 Sign this Petition
By signing, I authorize Love & Humanity Peterborough to hand over my signature to those who have power on this issue.
---
Is there something you want to change?
Change doesn't happen by staying silent. The author of this petition stood up and took action. Will you do the same? Start a social movement by creating a petition.
Start a petition of your own
Most popular petitions in last 24 hours
This petition has been set up on behalf of the members of Cleeve Cloud Golf Club who are responsible for running competitions and are the members section of Cleeve Hill Golf Course. This is due to the sad news that a decision has been made to close Cleeve Hill Golf Course from the 1st of April 2021. Unfortunately the current lease holder and the council have announced that the lease will be terminated early and golf will no longerbe  played on Cleeve Hill after more than 125 years of histoty. ht
Created: 2020-09-08
| Time period | All countries | United Kingdom |
| --- | --- | --- |
| All time | 2169 | 2049 |
| 24 hours | 21 | 17 |
RHYDYFELIN WE NEED YOUR HELP! It has come to our attention that apparently the residents and business owners of RHYDYFELIN aren't happy with the placement of the trailer. We are located on land that is owned by the community of Rhydyfelin, which is parked in a corner out of the way and not causing an issue with parking or taking up unnecessary space. We are clean and tidy. In fact we have taken it upon ourselves to clean the area of rubbish left from other businesses... Chip papers and trays, ca
Created: 2020-09-26
| Time period | All countries | United Kingdom |
| --- | --- | --- |
| All time | 154 | 154 |
| 24 hours | 16 | 16 |
Please SAVE AbuBakar Masjid from Fitna Since post lockdown a small minority has instigated a campaign of lies and baseless accusations against the 4 Trustees of the masjid. They also accused Imam of committing fraud and upon challenge were forced to apologise for false accusations. This is against the good conduct of a Muslim and should not be tolerated within the community. AbuBakar Masjid Southall has been serving the community at large through a good high school for girls, brilliant facilitie
Created: 2020-08-29
| Time period | All countries | United Kingdom |
| --- | --- | --- |
| All time | 1628 | 1614 |
| 24 hours | 14 | 14 |
At the end of June residents of Mon Bank were greeted with diggers and workers from Aldi assessing the grounds at the front of our estate (looking towards Belle Vue Park). Upon contacting Aldi we've been told that a public consultation will be taking place, however we would like to prevent this proposed supermarket from progressing any further NOW! To date local residents have not been officially informed of any plans, there is a tiny piece of paper which Aldi put on a post near the area confirm
Created: 2020-08-08
| Time period | All countries | United Kingdom |
| --- | --- | --- |
| All time | 277 | 276 |
| 24 hours | 12 | 12 |
I ,the undersigned, call on Harrogate Borough Council to reject the Homes England planning application for Ripon Barracks Development until significant infrastructure improvements have been agreed, ensuring existing residents don't lose out by further traffic congestion. 
Created: 2020-09-01
| Time period | All countries | United Kingdom |
| --- | --- | --- |
| All time | 613 | 607 |
| 24 hours | 10 | 9 |
Salaam All We have put this petition in place as the current Trustees of the Masjid are not fully open to the malpractice which occur in the Masjid. You as the public have contributed over a million pound towrds the masjid since it was formed. However 4 out of the 7 current trustees have sort to stay on and not involve any member of the public to join the board. The new amendment states that the current trustees can elect or stay on for a period of 3 and after 3 years they can be re selcted, whe
Created: 2020-08-27
| Time period | All countries | United Kingdom |
| --- | --- | --- |
| All time | 1455 | 1416 |
| 24 hours | 1 | 7 |
I object to this planning application. A section of the proposed trail leaves the old track bed north of Trewerry and heading south carves through a steep gradient green field to the Sustrans Cycle route 32. I do not know of any impediment that precludes the Council proposing the trail to follow the old track bed to Trewerry road crossing. Using the track bed as the route is consistent with the Council messaging about reusing existing infrastructure, lowering the visual impact of the trail by us
Created: 2020-08-07
| Time period | All countries | United Kingdom |
| --- | --- | --- |
| All time | 33 | 32 |
| 24 hours | 6 | 6 |
There is no way of crossing the road by the entrance of Ewell West train station and as a resident who Lives opposite and has to crossthe road every day to get to the train station from the flats opposite and next to the alley it's impossible. I know some of the school mums from St Clements Cross to go down the alley and with young children it's very dangerous. I'm petitioning to get a zebra crossing put there for access to the flats and the alley opposite the station. 
Created: 2020-08-24
| Time period | All countries | United Kingdom |
| --- | --- | --- |
| All time | 5 | 5 |
| 24 hours | 5 | 5 |
باسمه‌تعالی جناب آقای دکتر سعید نمکی، وزیر محترم بهداشت، درمان و آموزش پزشکی با سلام و آرزوی توفیق روزافزون احتراما ضمن عرض خدا قوت و سپاس ویژه از زحمات حضرتعالی و مجموعه نظام سلامت در مدیریت بحران کووید 19 و تحمل شرایط دشوار کنونی و اعلام حمایت قاطعانه از دستاوردها، برنامه‌ها و مطالبات به حق مدافعان سلامت و تاکید بر آمادگی جهت خدمت و فعالیت حداکثری در این حوزه، پیرو نامه شماره 13672/1/پ مورخ 24/12/1398 قریب به 3000 نفر از اعضای هیات علمی علوم پایه وزارت بهداشت، درمان و آموزش پزشکی در خصوص ترمیم
Created: 2020-03-05
| Time period | All countries | United Kingdom |
| --- | --- | --- |
| All time | 3559 | 35 |
| 24 hours | 247 | 5 |
For 30 years our orchestras and choirs have brought joy to thousands of people and raised millions of pounds to support the work of St Martin-in-the-Fields and the homeless. Now in the midst of a global pandemic with no consultation we have been informed by email, by the Director of Music at St Martin-in-the-Fields, that our concerts will end and that evening concerts will be mainly in-house. We have effectively been summarily dismissed. We call on people of all faiths and none to support our ap
Created: 2020-07-09
| Time period | All countries | United Kingdom |
| --- | --- | --- |
| All time | 1389 | 1258 |
| 24 hours | 4 | 4 |
PetitionOnline.uk
We provide free hosting for online petitions. Create a professional online petition by using our powerful service. Our petitions are mentioned in the media every day, so creating a petition is a great way to get noticed by the public and the decision makers.