Martin needs a home with his best friend Rocky
Meet Martin & Rocky
He has been on the streets of Peterborough for nearly a year now and because he has his best friend Rocky (his dog) the Council's housing team will not house him, he is expected to give up is friend to have a roof over his head. A dog is part of the family and when you have nothing but the comfort of your best friend why should you be separated, it would break both Matins and Rocky's heart.
This petition is to tell the people with the power that we demand he is taken off the streets with Rocky. If you agree please sign and share this petition so we can give love and humanity to these amazing characters.
Thank you Big love & Hugs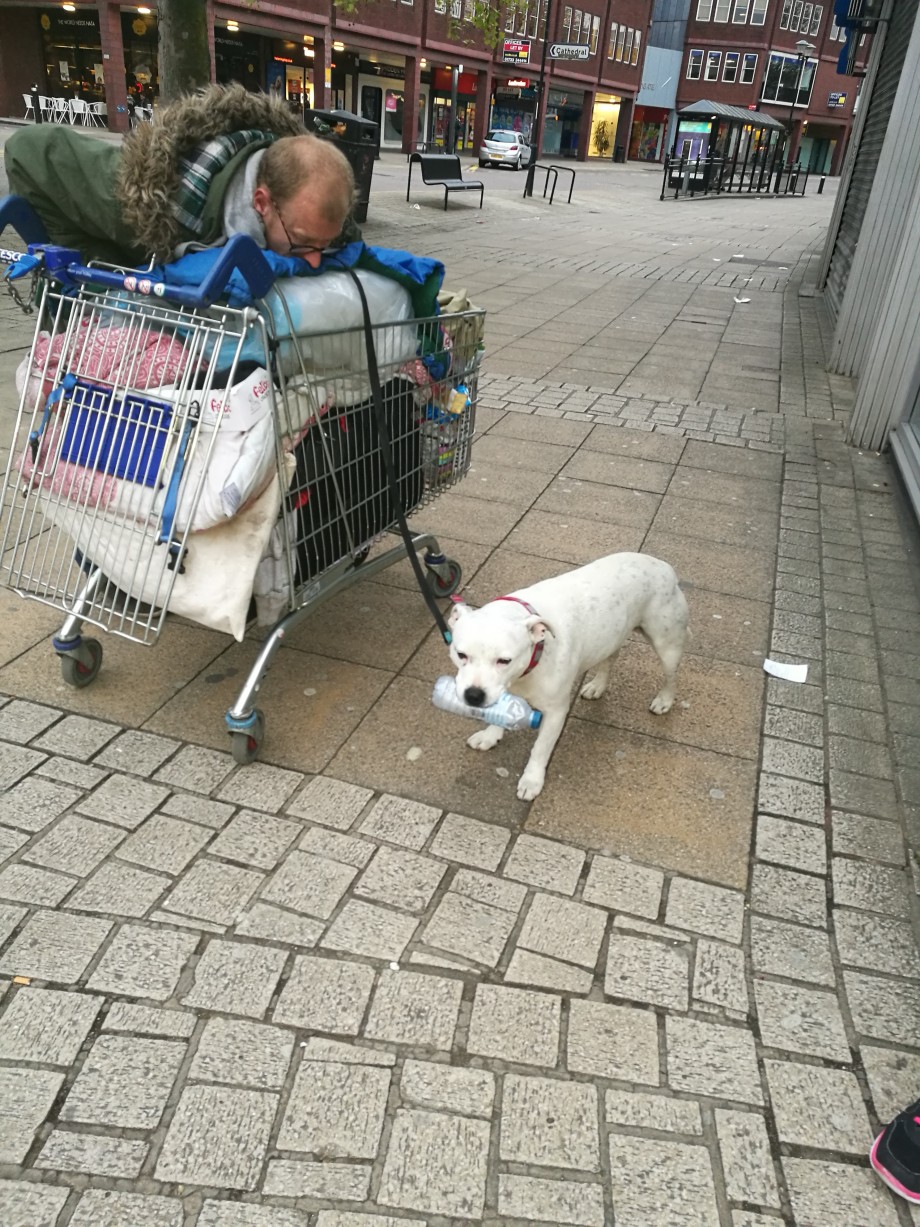 Sign this Petition
By signing, I authorize Love & Humanity Peterborough to hand over my signature to those who have power on this issue.
---
Is there something you want to change?
Change doesn't happen by staying silent. The author of this petition stood up and took action. Will you do the same? Start a social movement by creating a petition.
Start a petition of your own
Most popular petitions in last 7 days
   We, the undersigned, are very concerned at the recent removal of vegetation from the important green open space known as Swallows Meadow, located between Bassett Close and Lower Earley Way in Wokingham Borough. We note that Earley Town Council is seeking to have this land, which is part of an important green corridor, designated and protected as a Local Green Space. We are concerned that the recent activity on this land may be in preparation for some form of housing or related development, wh
Created: 2020-11-18
| Time period | All countries | United Kingdom |
| --- | --- | --- |
| All time | 1401 | 1396 |
| 7 days | 86 | 86 |
YOUR BAR NEEDS YOU!! Everyone it's time to Stand Up And Support Stoners Bar!!! The heart and soul of our community in Costa De Antigua needs your help in these difficult times. A popular place not only for locals but a warm and inviting place for tourists. They are facing what appears to be victimization and it's time to stand together and put a stop to it! While they are trying to survive as a business as well as helping the community with kids at Christmas, supporting local Artists or generall
Created: 2021-01-26
| Time period | All countries | United Kingdom |
| --- | --- | --- |
| All time | 239 | 80 |
| 7 days | 239 | 80 |
  PETITION TO SAVE JOSEF FRANK'S MOST SIGNIFICANT BUILDING Villa Beer (1929-1930) is one of the most important works of private housing of the 1920ies and 1930ies. Designed by Josef Frank and Oskar Wlach, it is on par with other important Modernist buildings by such architects as Le Corbusier, Ludwig Mies van der Rohe or Adolf Loos. Just recently Villa Beer was opened for one weekend only as part of a major Josef Frank retrospective exhibition held at the MAK (Museum for Applied Arts Vienna). T
Created: 2016-12-22
| Time period | All countries | United Kingdom |
| --- | --- | --- |
| All time | 1448 | 136 |
| 7 days | 181 | 50 |
Robin Swann has failed in his duties as health minister and as a result of those failures, we call for the immediate removal of Mr Swann from his post as Northern Ireland's health minister. Mr Swann has continually advocated for lockdowns when the World health Organisation have stated that governments should not continue to implement lockdowns as they cause poverty which in turn results in long term detrimental impacts on the health and wellbeing of many people. His actions have resulted in the
Created: 2021-01-27
| Time period | All countries | United Kingdom |
| --- | --- | --- |
| All time | 26 | 26 |
| 7 days | 26 | 26 |
As scholars, researchers, activists and concerned individuals, we, the undersigned, strongly condemn President Donald Trump's proclamation recognizing Moroccan sovereignty over Western Sahara.  Western Sahara is a case of unresolved decolonization.  Decolonization is not only a legal process, but a political struggle, one which has often been waged through the global public sphere. World public opinion, transnational solidarity and global attention have historically been integral to successful d
Created: 2021-01-07
| Time period | All countries | United Kingdom |
| --- | --- | --- |
| All time | 531 | 97 |
| 7 days | 68 | 24 |
We would like to progress and promote the idea of healthy futures by closing off the Marine Drive and Foreshore Road to all traffic every Sunday. The terrible exhaust fumes and noise severely restricts the enjoyment of walkers and cyclists who want to excerise and take in the scenery along this beautiful part of our coastline. Children, families, retirees, teens, walkers, joggers, cyclists, all of these people and more deserve a day without traffic despoiling the health benefits. We now call on
Created: 2021-01-11
| Time period | All countries | United Kingdom |
| --- | --- | --- |
| All time | 37 | 37 |
| 7 days | 15 | 15 |
بسمه تعالی جناب آقای دکتر نمکی مقام عالی وزارت بهداشت ، درمان و آموزش پزشکی با سلام و ادب احتراما ضمن تقدیر ویژه از زحمات و نگاه کاملا همراه و حمایت گرانه جنابعالی در احقاق حقوق اعضای هیات علمی و به طور ویژه موضوع ترمیم حقوق, به استحضار می رساند جناب آقای دکتر بهزاد مهکی, عضو محترم هیات علمی دانشگاه علوم پزشکی کرمانشاه, طی 4 سال گذشته با تلاش های خستگی ناپذیر و بدون چشمداشت, توانسته است با تجمیع توان اعضای هیئت علمی علوم پایه وزارت متبوع و تعامل حداکثری با مدیران و متولیان امر, اقدامات ارزشمندی
Created: 2021-01-21
| Time period | All countries | United Kingdom |
| --- | --- | --- |
| All time | 1350 | 14 |
| 7 days | 1339 | 14 |
Kew has been blighted by traffic chaos, increased danger and increased pollution following the introduction of London Borough of Richmond-Upon-Thames's controversial 'Experimental Traffic Scheme' on Kew Road.  The scheme: ·         Has been introduced in an undemocratic way with no prior consultation. ·         Is causing additional displacement parking putting further pressure on Kew Green        and residential roads adjoining Kew Road. ·         Will force 60 coaches per day onto Kew Green, w
Created: 2020-11-02
| Time period | All countries | United Kingdom |
| --- | --- | --- |
| All time | 424 | 424 |
| 7 days | 14 | 14 |
Recently Cadbury brought back an old chocolate bar due to a petition. I saw the story on the Manchester Evening News Facebook page. I made a comment regarding the Rowntree's Cabana chocolate bar wishing it would also make a come back. Likes and comments agreeing followed so I thought it's worth a shot?! So let's see if people power can get our caramel, coconut and cherry pieces wrapped in milk chocolate bar returned to our shop shelves!!!! 
Created: 2020-01-04
| Time period | All countries | United Kingdom |
| --- | --- | --- |
| All time | 331 | 327 |
| 7 days | 13 | 13 |
At Ipswich and Colchester Hospitals, the current advice regarding PPE mirrors PHE's misguided advice that surgical masks, gloves and an apron are adequate protection against Covid-19.  Staff members at ESNEFT have fallen ill, and even died following contracting Covid. Many believe they caught it from work.  Staff have concerns around the increased transmissibility of the new strains of the virus, the lack of ventilation on wards, the rapid increase in covid admissions, and the fact they feel inh
Created: 2021-01-15
| Time period | All countries | United Kingdom |
| --- | --- | --- |
| All time | 360 | 358 |
| 7 days | 10 | 10 |
PetitionOnline.uk
We provide free hosting for online petitions. Create a professional online petition by using our powerful service. Our petitions are mentioned in the media every day, so creating a petition is a great way to get noticed by the public and the decision makers.