stop Hackney Homes from making me rehome one of my dogs
On the 26th of April 2015 I received a letter from hackney homes council stating that I have 28 days to rehome one of my dogs because apparently I'm breaching the tenancy agreement but I informed the council before I moved in that I had 2 pet dogs and that I would only take the property if I was allowed my pets with me.
Hackney home's agreed and said they do allow dogs in there council pproperties and this wouldn't be an issue shortly after moving in I had a visit to check I was happy with the property and to see if I had any problems with the house or concerns regarding the tenancy etc, I said no I when informed on this visit that some tenants wanted to make sure that my dogs where kept on a lead while I walked through the building until I was outside the building and off council property.
I had no problems with this and told the council person to apologise to the tenants on behalf of me I caused them to feel uncomfortable with the pets being off the lead whole in the building and I rectified the problem immediately without any further issues or problems.
Until the 26th of April when I got this letter over a year later saying I had to rehome one of my dogs and that they will be making an unannounced visit after the 25th of may 2015 to check this had been done and if I don't adhere to this that hackney homes will be taking legal action against me which could result in the loss of my home.
This request/demand is completely unfair and unfounded not only because these dogs have lived here for over a year before I had the notice of removing one of them but also because there is several other tenents withinthe building that have more than one pet and they haven't had the same letter.
PLEASE HELP ME SAVE MY TWO DOGS FROM BEING SEPARATED AND HAVING TO REHOME ONE OF THEM FOR UNFAIR REASONS AND WITHOUT ANY GOOD REASON FOR NOT BEING ABLE TO KEEP THEM BOTH WITH ME AT THE PROPERTY
WITH THANKS IN ADVANCE FOR YOUR SUPPORT AND TO ALL PET FRIENDLY PEOPLE OUT THERE.
MUCH LOVE FROM TIFFANY SIMCOE ( OWNER OF PETS)
SADIE 10YEARS OLD STAFFORDSHIRE BULL TERRIER & MAX 7 YEARS OLD STAFFORDSHIRE BULL TERRIER CROSS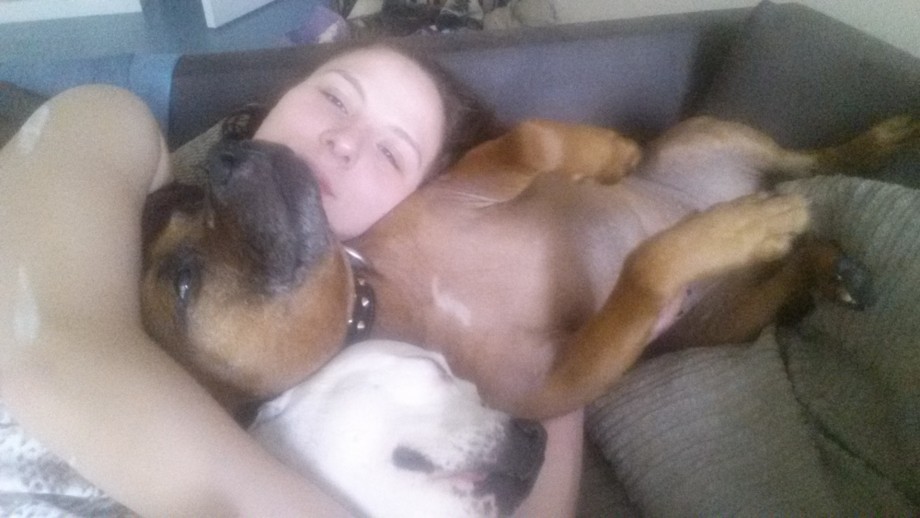 The author of this petition has closed this petition.

Announcement from the administrator of this website

We have removed signatories' personal information.

European Union's General Data Protection Regulation (GDPR) requires a legitimate reason for storing personal information and that the information be stored for the shortest time possible.