Petition to request Wirral Council re-assess the Practicality of the Fender Lane Cycle Lane
Back in March 2022 work started on the implementation of cycle lanes on both the eastbound & westbound carriageways, Fender Lane.
This was part of Wirral Councils Active Travel scheme, but Moreton West & Saughall Massie Councillors did not get consulted on any of the proposals.
In addition to this, councillors voted against the scheme at committee stage, and the project was still carried forward.
We request the project's practicality be completely re-assessed by the relevant council department, based on the impact of traffic congestion/bottlenecks, and the dangerous impacts/delays for emergency services the Cycle Lanes create.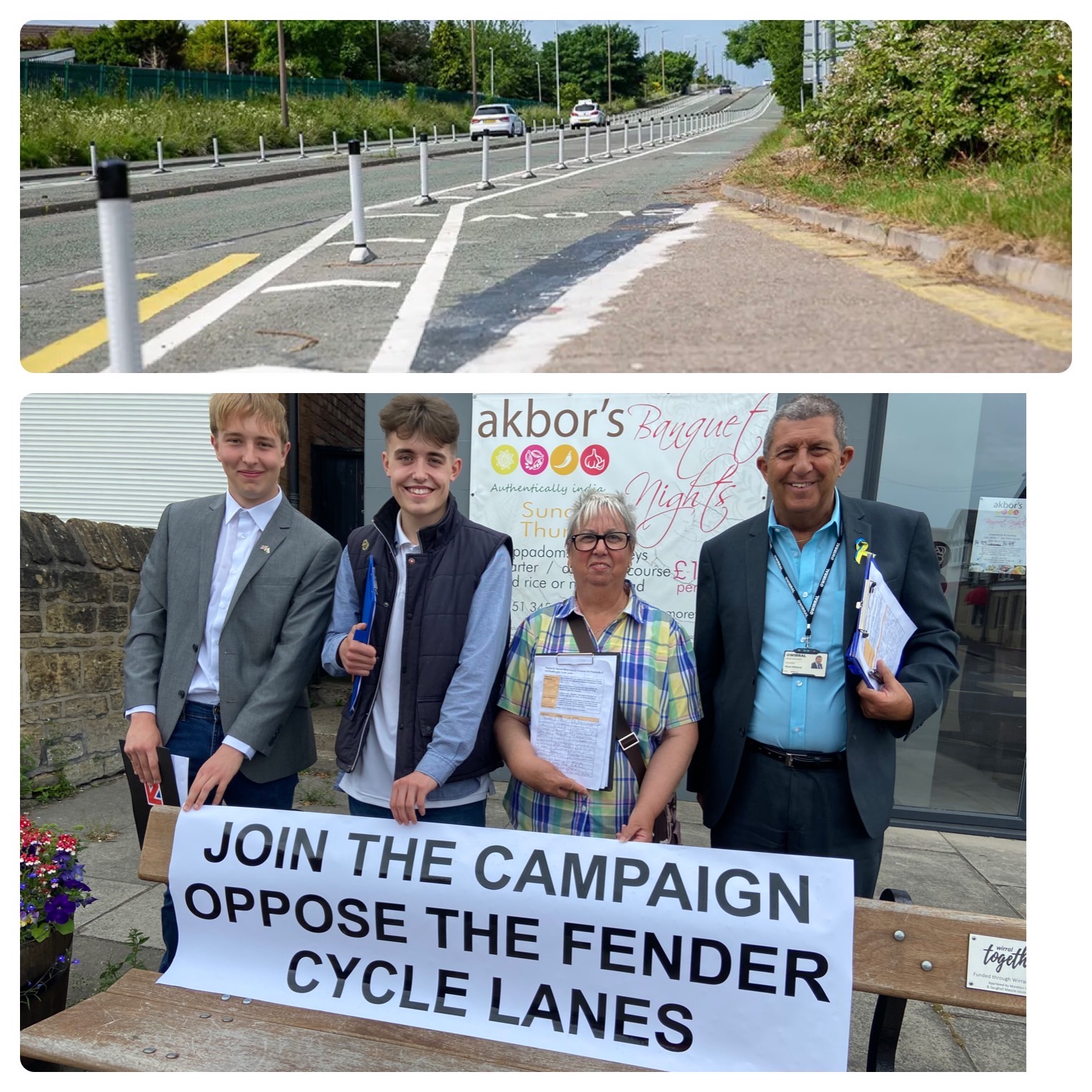 Carriageway image rights: Birkenhead News
Sign this Petition
By signing, I authorize Cllr Max Booth (Moreton West & Saughall Massie) to hand over the information I provide on this form to those who have power on this issue.
---
Is there something you want to change?
Change doesn't happen by staying silent. The author of this petition stood up and took action. Will you do the same? Start a social movement by creating a petition.
Start a petition of your own
Most popular petitions this year
Rape and coercive/controlling behavior is one of the most disgraceful crimes against a partner/spouse.   But,   When a partner/spouse makes false allegations of these kind of crimes against a partner/spouse for revenge, anger or spite the impact can be devastating mentally, emotionally and effect their whole life.   When these kinds of allegations are proven to be false we demand that the police and authorities to do more to prosecute the offender.   Help us make sure that no innocent person sho
Created: 2022-06-01 Statistics
| Time period | All countries | United Kingdom |
| --- | --- | --- |
| All time | 1787 | 1779 |
| 2022 | 1787 | 1779 |
After months of working with New Forest District council (NFDC), we have had to temporarily suspend live music due to being served with a Noise Abatement Noitce.  We feel this notice has been served somewhat hastily as I (Martin) and my staff believe they were working closely with the council to reaach a fair compromise after aproximately 4 regular complainants made it necessary for Environmental Helath to monitor live music events. These events are once weekly and for two sets of forty five min
Created: 2022-08-07 Statistics
| Time period | All countries | United Kingdom |
| --- | --- | --- |
| All time | 1036 | 1033 |
| 2022 | 1036 | 1033 |
The Suffolk Green, Lib Dem and Independent Group, the elected opposition at Suffolk County Council, are seeking 3,675 signatures to sign our petition. £5,000 for a pair of dropped kerbs? £7,500 to cut down a single tree? £10,000 to design four humps in a road (not even to build!)? These are just some of the astonishing quotes Kier charge for Suffolk highways maintenance. Since 2013, Suffolk County Council have been outsourcing highways maintenance to Kier, an infrastructure company that won a
Created: 2022-05-05 Statistics
| Time period | All countries | United Kingdom |
| --- | --- | --- |
| All time | 649 | 644 |
| 2022 | 649 | 644 |
Please help us get as many signatures as possible to help us keep West College Scotland nursery open! Us as parents rely on this nursery and so does the community, this nursery has been in our wee town for many of years, helping parents get back into education. The staff at this nursery are fantastic also they deserve all the support we can give them.
Created: 2021-12-28 Statistics
| Time period | All countries | United Kingdom |
| --- | --- | --- |
| All time | 786 | 782 |
| 2022 | 594 | 590 |
As a resident and child of the town of Faringdon I (Lizzie Pugh age 10) think it's time that we had our very own Splash Park just like Wantage, Witney and Abingdon do! Please help me to show support for this idea so that I can take the evidence of support to our local councils and get myself and the other children of the down splashing!
Created: 2022-06-23 Statistics
| Time period | All countries | United Kingdom |
| --- | --- | --- |
| All time | 520 | 517 |
| 2022 | 520 | 517 |
The point of this petition is announce support for the LGBT students at the University of Reading and the larger community as a whole. On the 25th of April, a pro conversion therapy for trans people speaker was invited to the UoR. The UN has called conversion therapy torture and the talk violated several University of Reading policies but was still allowed to go ahead. The University of Reading should make a public apology as the talk was abusive, disciminatory and harassment using the UoR's own
Created: 2022-04-25 Statistics
| Time period | All countries | United Kingdom |
| --- | --- | --- |
| All time | 583 | 401 |
| 2022 | 583 | 401 |
We, the undersigned, are objecting to the proposed building on Tod's Piece Allotments, Uppingham. These allotments are well loved, cared for and bring much needed calm and green space in the middle of town, to not only allotment holders but they are loved by the public, as well as providing a much needed home to wildlife. There is a waiting list for these allotments, proving that they are both needed and wanted.  
Created: 2022-05-29 Statistics
| Time period | All countries | United Kingdom |
| --- | --- | --- |
| All time | 394 | 391 |
| 2022 | 394 | 391 |
Investigation and Prosecution of Those Individuals Responsible for Crimes Against Humanity   29 September 2021     The International Criminal Court Office of the Prosecutor Post Office Box 19519 2500 CM The Hague The Netherlands     And   Ms. Karen Mosoti, or official replacement for the office of Liaison Office of the International Criminal Court to the United Nations 866 United Nations Plaza Suite 476 New York, NY, 10017 USA 212-486-1346/47/62     Email: otp.informationdesk@icc-cpi.int   Dear
Created: 2021-09-29 Statistics
| Time period | All countries | United Kingdom |
| --- | --- | --- |
| All time | 72865 | 7348 |
| 2022 | 4941 | 375 |
After many years of being allowed edging & memorials around our loved ones graves, Christ Church Yardley Wood has now decided that the 2006 regulations must be followed and that these must be removed. We're starting this petition in the hopes that with enough backing we can prevent this from happening and continue to keep our families final resting place how they have always been. The families have always upkept this part of the graveyard, and kept it looking beautiful and tidy, making it a
Created: 2022-06-07 Statistics
| Time period | All countries | United Kingdom |
| --- | --- | --- |
| All time | 383 | 361 |
| 2022 | 382 | 361 |
Help us save Chico and give him the life he deserves! We recently fostered Chico from a charity who rescue dogs from the UK and abroad.  This little lad is 4 years old and the sweetest most adorable boy you could ever wish for! We have 3 fur babies already and they have all bonded and little Chico is settled and made himself very much at home. We have asked if we can adopt him and been refused. The charity have said that the rules are that foster homes cannot adopt until after the first three fo
Created: 2022-07-11 Statistics
| Time period | All countries | United Kingdom |
| --- | --- | --- |
| All time | 363 | 358 |
| 2022 | 363 | 358 |
PetitionOnline.uk
We provide free hosting for online petitions. Create a professional online petition by using our powerful service. Our petitions are mentioned in the media every day, so creating a petition is a great way to get noticed by the public and the decision makers.