CWU Capita Tesco Mobile Petition 2021
The CWU believes that scores of employees will be inevitably be placed 'at risk' under company's proposals which include: Ill-conceived company attempts to insist that displaced employees can transfer to the company's Preston Brook site
We're also intent on ensuring absolute fairness in the selection procedure for comparatively scarce homeworking opportunities on the contract, and an increase in the number of homeworking roles the company is currently envisaging in both sites.
Capita's beleaguered Bury workforce has already received the unequivocal backing of Greater Manchester Mayor Andy Burnham and Bury Council leader Eamonn O'Brien – with the latter attending last Friday's spirited CWU protest in person.
"Bury Labour stands in solidarity with employees at Capita's Bury call centre, Cllr O'Brien insisted. "I'm in full support of the proposals put forward by the Communication Workers Union to retain these jobs in Bury by allowing employees to continue working from home where appropriate and looking for an alternative site in Bury to keep these jobs in our borough.
"The Council is ready to engage with Capita about how we can help explore these proposals." Andy Burnham added: "These key workers, who have worked tirelessly throughout the pandemic helping to keep the country connected, deserve better and I would urge both Tesco Mobile and Capita to work constructively with the local council and the CWU to find a solution that benefits all stakeholders.
Please ensure you sign up to our Petition and share with colleagues in the Tesco Mobile area we need your assistance getting behind this petition please ask everyone to sign up!
Campaign key themes
·         Keep Capita Bury site open 
·         Seek alternative site working with Bury Council leaders 
·         Increase homeworking options for everyone in PB & Bury on the Capita Tesco mobile contract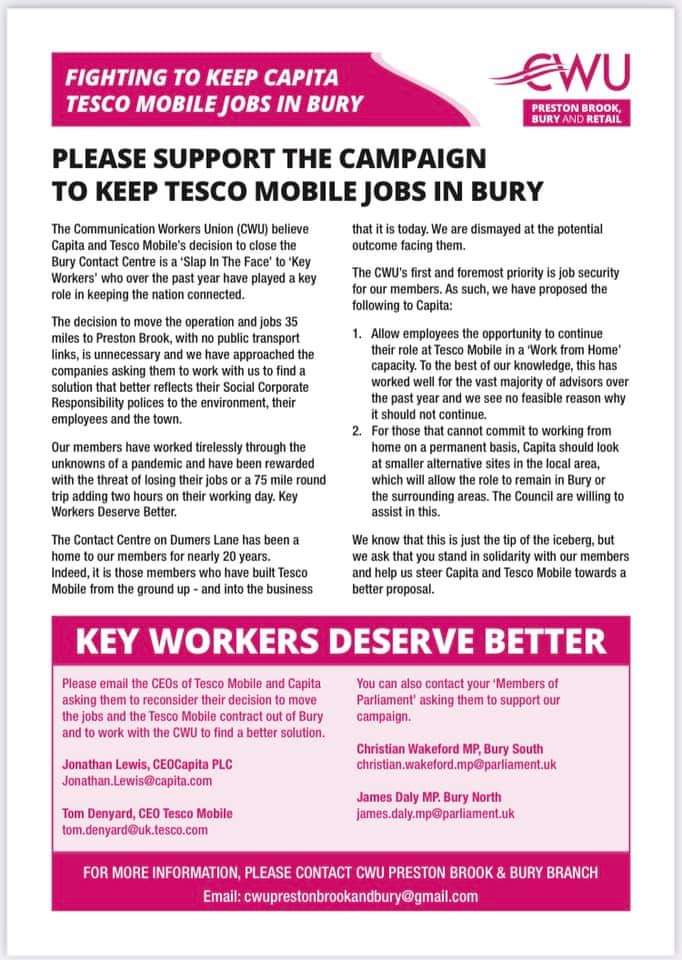 Sign this Petition
By signing, I authorize cwuprestonbrookandbury to hand over the information I provide on this form to those who have power on this issue.