Worldwide Request To A-HA To Live Stream On Internet Their Final Concert In Oslo
Many fans around the world would like to be in Oslo on December 4 to say good-bye to the band that has been a part of our lives for the past 25 years.
For one reason or another, we won't be able to be there in person to attend the show that will close the door on a-ha's brilliant career. That is the reason why we are requesting aha's management to live-stream the final concert on Dec 4 in Oslo in an attempt to join other international petitions, in the hope of getting our wish granted. This live-stream will be a way of uniting fans all over the world in a final embrace to the band that has and will always play the soundtrack of our lives.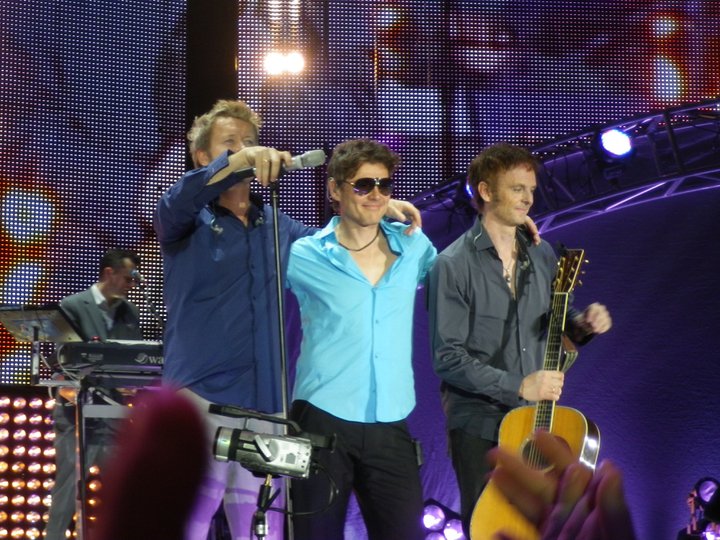 | | |
| --- | --- |
| | The author of this petition has closed this petition. |
---
Is there something you want to change?
Change doesn't happen by staying silent. The author of this petition stood up and took action. Will you do the same? Start a social movement by creating a petition.
Start a petition of your own
Most popular petitions in last 24 hours
I ,the undersigned, call on Harrogate Borough Council to reject the Homes England planning application for Ripon Barracks Development until significant infrastructure improvements have been agreed, ensuring existing residents don't lose out by further traffic congestion. 
Created: 2020-09-01
| Time period | All countries | United Kingdom |
| --- | --- | --- |
| All time | 560 | 556 |
| 24 hours | 19 | 18 |
The signatories on this petition are calling for an end to the dictatorship of the Stormont executive and public health officials who are infringing our inalienable human rights as set out in the Human rights act 1998. The Northern Ireland Act 1998 sets out the legislative competence of the Northern Ireland Assembly and states that the Assembly may not legislate in a manner that conflicts with the European convention on Human rights. The Act places a DUTY on public bodies not to act in contraven
Created: 2020-07-17
| Time period | All countries | United Kingdom |
| --- | --- | --- |
| All time | 1319 | 1259 |
| 24 hours | 13 | 13 |
At the end of June residents of Mon Bank were greeted with diggers and workers from Aldi assessing the grounds at the front of our estate (looking towards Belle Vue Park). Upon contacting Aldi we've been told that a public consultation will be taking place, however we would like to prevent this proposed supermarket from progressing any further NOW! To date local residents have not been officially informed of any plans, there is a tiny piece of paper which Aldi put on a post near the area confirm
Created: 2020-08-08
| Time period | All countries | United Kingdom |
| --- | --- | --- |
| All time | 277 | 276 |
| 24 hours | 12 | 12 |
This petition has been set up on behalf of the members of Cleeve Cloud Golf Club who are responsible for running competitions and are the members section of Cleeve Hill Golf Course. This is due to the sad news that a decision has been made to close Cleeve Hill Golf Course from the 1st of April 2021. Unfortunately the current lease holder and the council have announced that the lease will be terminated early and golf will no longerbe  played on Cleeve Hill after more than 125 years of histoty. ht
Created: 2020-09-08
| Time period | All countries | United Kingdom |
| --- | --- | --- |
| All time | 1863 | 1801 |
| 24 hours | 9 | 9 |
Please SAVE AbuBakar Masjid from Fitna Since post lockdown a small minority has instigated a campaign of lies and baseless accusations against the 4 Trustees of the masjid. They also accused Imam of committing fraud and upon challenge were forced to apologise for false accusations. This is against the good conduct of a Muslim and should not be tolerated within the community. AbuBakar Masjid Southall has been serving the community at large through a good high school for girls, brilliant facilitie
Created: 2020-08-29
| Time period | All countries | United Kingdom |
| --- | --- | --- |
| All time | 1463 | 1449 |
| 24 hours | 7 | 7 |
I object to this planning application. A section of the proposed trail leaves the old track bed north of Trewerry and heading south carves through a steep gradient green field to the Sustrans Cycle route 32. I do not know of any impediment that precludes the Council proposing the trail to follow the old track bed to Trewerry road crossing. Using the track bed as the route is consistent with the Council messaging about reusing existing infrastructure, lowering the visual impact of the trail by us
Created: 2020-08-07
| Time period | All countries | United Kingdom |
| --- | --- | --- |
| All time | 33 | 32 |
| 24 hours | 6 | 6 |
Fed up with the noise, cars and disruption to our daily lives by the increased presence of footballers using the football pitches on Mabley Green? Since Lockdown the number of footballers using the pitches on Mabley Green has increased dramatically. Residents are subjected to continual noise, increased traffic and increased litter every day of the week from 6am until after dark. This situation cannot go on so we are asking you to sign this petition to reduce the number of hours the pitches are
Created: 2020-09-21
| Time period | All countries | United Kingdom |
| --- | --- | --- |
| All time | 11 | 11 |
| 24 hours | 5 | 5 |
There is no way of crossing the road by the entrance of Ewell West train station and as a resident who Lives opposite and has to crossthe road every day to get to the train station from the flats opposite and next to the alley it's impossible. I know some of the school mums from St Clements Cross to go down the alley and with young children it's very dangerous. I'm petitioning to get a zebra crossing put there for access to the flats and the alley opposite the station. 
Created: 2020-08-24
| Time period | All countries | United Kingdom |
| --- | --- | --- |
| All time | 5 | 5 |
| 24 hours | 5 | 5 |
This is a call to the Stormont executive to ask for the immediate resignation from Robin Swann of his position as Northern Ireland's health minister. Mr Swann refuses to make available to the public the "compelling Scientific evidence" he supposedly has been using to support COVID-19 restrictions which the executive have been and are continuing to put in place. Several requests have been made to Mr Swann to release this information to the public under the Freedoms of information act 2000 and he
Created: 2020-09-18
| Time period | All countries | United Kingdom |
| --- | --- | --- |
| All time | 107 | 104 |
| 24 hours | 4 | 4 |
We, the community, want to stop dangerous driving and speeding in Mossley. We seek an urgent and immediate dialogue with local elected representatives, Tameside Council and Greater Manchester Police. We demand an achievable and tangible commitment to speed deterrent measures which have a short and long-term positive impact in known 'hot-spots' and throughout the town. This petition is the first formal stage of gathering and documenting public support for a campaign to bring urgent change on this
Created: 2020-09-15
| Time period | All countries | United Kingdom |
| --- | --- | --- |
| All time | 240 | 240 |
| 24 hours | 4 | 4 |
PetitionOnline.uk
We provide free hosting for online petitions. Create a professional online petition by using our powerful service. Our petitions are mentioned in the media every day, so creating a petition is a great way to get noticed by the public and the decision makers.