Worldwide Request To A-HA To Live Stream On Internet Their Final Concert In Oslo
Many fans around the world would like to be in Oslo on December 4 to say good-bye to the band that has been a part of our lives for the past 25 years.
For one reason or another, we won't be able to be there in person to attend the show that will close the door on a-ha's brilliant career. That is the reason why we are requesting aha's management to live-stream the final concert on Dec 4 in Oslo in an attempt to join other international petitions, in the hope of getting our wish granted. This live-stream will be a way of uniting fans all over the world in a final embrace to the band that has and will always play the soundtrack of our lives.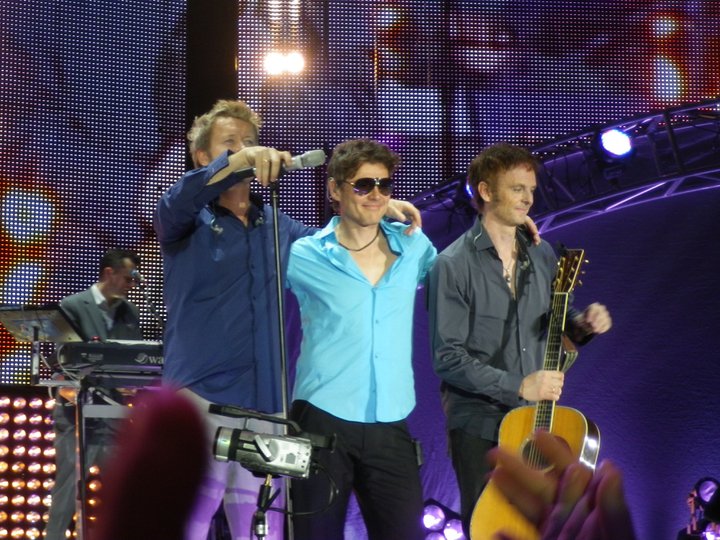 The author of this petition has closed this petition.

Announcement from the administrator of this website

We have removed signatories' personal information.

European Union's General Data Protection Regulation (GDPR) requires a legitimate reason for storing personal information and that the information be stored for the shortest time possible.
---
Is there something you want to change?
Change doesn't happen by staying silent. The author of this petition stood up and took action. Will you do the same? Start a social movement by creating a petition.
Start a petition of your own
Most popular petitions in last 7 days
We are alarmed to see a lack of TRANSPARENCY on the Anglesey County Council portal online website regarding documents relating to the planning application of Penrhos Nature Reserve/Park. We would like to bring to your attention the ecological surveys and reports carried out by TEP, on which NRW based their Environmental Statement. This document should be available for public view. As of 2016 and up to 28/02/21, these documents have been unavailable for public view. We would also request that the
Created: 2021-02-28
| Time period | All countries | United Kingdom |
| --- | --- | --- |
| All time | 759 | 756 |
| 7 days | 759 | 756 |
On the 8th February, I will be launching a Group Litigation Order (GLO) against the UK Government for False Advertising surrounding the Covid19 campaigns. Until people start being held accountable, this will never end. Although I only need 18 signatures to file this order, I believe it will strengthen the case for the Judge to see how many people are backing this fight. Since March 2020, the UK Government have spent billions of pounds of tax payers money on illegal advertising surrounding Covid1
Created: 2021-02-01
| Time period | All countries | United Kingdom |
| --- | --- | --- |
| All time | 17473 | 16977 |
| 7 days | 455 | 439 |
We believe in upholding the democratic values of freedom of speech, thought, and expression. We view Academic freedom of expression in universities as paramount to the process of higher education and empirically-grounded research. The suppression of opposing views stifles critical thought and debate, which are incredibly important parts of a university education and should be promoted and encouraged in both students and staff. We strongly oppose the idea that Academic Freedom should only apply
Created: 2021-02-27
| Time period | All countries | United Kingdom |
| --- | --- | --- |
| All time | 663 | 116 |
| 7 days | 662 | 116 |
The signatories on this petition are calling for an end to the dictatorship of the Stormont executive and public health officials who are infringing our inalienable human rights as set out in the Human rights act 1998. The Northern Ireland Act 1998 sets out the legislative competence of the Northern Ireland Assembly and states that the Assembly may not legislate in a manner that conflicts with the European convention on Human rights. The Act places a DUTY on public bodies not to act in contraven
Created: 2020-07-17
| Time period | All countries | United Kingdom |
| --- | --- | --- |
| All time | 1870 | 1767 |
| 7 days | 43 | 41 |
In short, we do not want Greenwich council to block all the access roads that run North/South between Woolwich Road and the A2/Blackheath.   I like many of you have just received a letter through the post informing me of proposed changes to road layouts in the Westcombe Park/Vanburgh hill area. The letter does not include a map of the propsed changes which in itself is misleading, it then directs you to a website where you can find the map, some assumptions and disinformation and participate in
Created: 2021-02-05
| Time period | All countries | United Kingdom |
| --- | --- | --- |
| All time | 443 | 443 |
| 7 days | 39 | 39 |
As regular users of the bridle path (junction of Halliloo Valley Road and Park Ley Road) we are concerned that the surface is getting increasingly dangerous and hazardous to walk, ride or cycle on. This is due to the steep incline of the hill, constant erosion, effects of weather and change in seasons. As such, we are petitioning our local Council to address this by improving the surface to avoid accidents and injury to walkers, horses and cyclists by slipping or falling.
Created: 2020-11-01
| Time period | All countries | United Kingdom |
| --- | --- | --- |
| All time | 63 | 62 |
| 7 days | 38 | 37 |
I study & advocate for the Common Law and have done for almost 10 years now. I sign many petitions however they rarely have and success for the common good, public interest and most importantly legal remedy. I moderate a Facebook private account on Common Law remedy. Sovereign Men/Women of UK for Common Law Remedy against Private Corporation. The Government and Police etc are in breach of their oaths and Contract with the people therefore it is Legal Remedy that we have a non optional guaran
Created: 2021-02-03
| Time period | All countries | United Kingdom |
| --- | --- | --- |
| All time | 115 | 113 |
| 7 days | 34 | 34 |
Despite the signs at both ends of Cross Lane, there is a continuing problem with vehicles, mainly delivery vehicles and lorries, using Cross Lane and causing damage to properties and verges. Northwold and Whittington Parish Council has raised this issue and possible solutions with Norfolk County Council without success. The County Council is unwilling to address the matter until a village wide consultation has taken place.   The Parish Council is proposing that, as well as new signage, vehicle a
Created: 2021-02-28
| Time period | All countries | United Kingdom |
| --- | --- | --- |
| All time | 33 | 33 |
| 7 days | 33 | 33 |
Despite the government advice that schools are to reopen on the 8th March, Mrs Padgett, the Headteacher of Cockburn Haigh Road School has taken the decision to only open the school to Year 1 and Year 2 children 2 days a week. After losing out on nearly a year of education our children now run the risk of falling even further behind than their peers as they won't have access to the school for 60% of the week. If you want OUR school to reopen full time for ALL our children then please sign the pet
Created: 2021-02-23
| Time period | All countries | United Kingdom |
| --- | --- | --- |
| All time | 33 | 33 |
| 7 days | 33 | 33 |
The hospitality industry is on its knees. We need to make a stand and make it now - so Work Anywhere Hub is lobbying the government to allow venues to reopen on March 8th along with schools. Across the country buildings lay empty. These buildings could be used as safe spaces for workers. The hospitality industry should not be forced to suffer any more. If offices are allowed to open then why can't we? Work Anywhere Hub proposes that all venues be allowed to open as remote, COVID-safe workspaces.
Created: 2021-02-15
| Time period | All countries | United Kingdom |
| --- | --- | --- |
| All time | 196 | 192 |
| 7 days | 20 | 20 |
PetitionOnline.uk
We provide free hosting for online petitions. Create a professional online petition by using our powerful service. Our petitions are mentioned in the media every day, so creating a petition is a great way to get noticed by the public and the decision makers.