Paint mobile phone mast at Glenborrodale, Ardnamurchan
The Scottish Government awarded £15 million to Warrington based WHP Telecoms  to provide phone masts in remote areas of Scotland.
WHP set out their plans to the Scottish Government stating : 
"tower design and tower height will have an impact on visual amenity and may require compromise in the more challenging areas"
"We (WHP) offer to meet with all stakeholders,we listen to the local concerns and address them accordingly"
The photograph shows the latest result of their project in Glenborrodale.   WHP insist that galvanised steel is "appropriate" to the visual amenity of the area. What do you think ?
The mast is in an area of outstanding beauty and is highly visible when travelling on the main road from Kilchoan to Salen and is an eyesore for locals and visitors alike.
Would you like to see the colour of the mast toned down ?  WHP have already painted the lower part of the mast in matt sepia to blend in with the environment. Local residents have repeatedly requested that the upper part of the mast also be painted to achieve a similar result. WHP have refused these requests in the past but now say they will paint the mast if there is sufficient support.
Have your say and let WHP know your views. The mast will always be an intrusion in the landscape but at least the visual impact can be toned down if WHP are prepared to respond to the wishes of locals and visitors.
Please sign the petition and, if you wish, also e-mail  WHP Telecoms direct and let them know your views. The contact is Rob Potter and his e-mail is  r.potter@whptelecoms.com  If you do this, copy your e-mail to me : kilronan@ gmail.com and I will ensure that  the Local Community Council, Highland Council and Scottish Government Finance Secretary are kept informed.
Thank you for your support, Colin & Linda George and Glenborrodale residents
Hoki Mai Cottage
Glenborrodale
PH36 4JP
Tel : 07541805104
or 01786 831054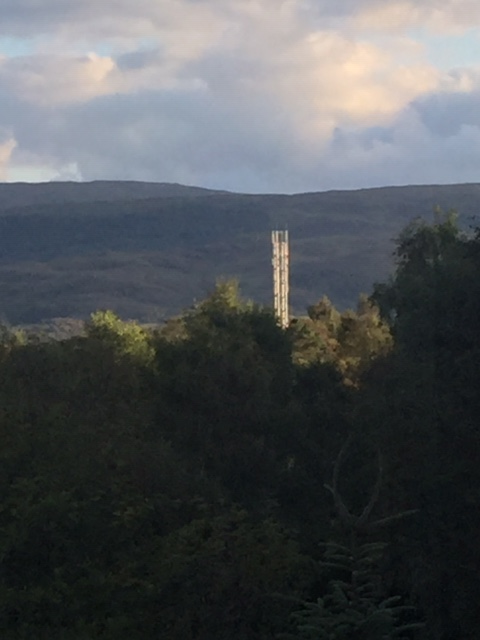 Sign this Petition
By signing, I authorize Colin and Linda George to hand over the information I provide on this form to those who have power on this issue.