Bring back Rowntree's Cabana chocolate bar!
Recently Cadbury brought back an old chocolate bar due to a petition. I saw the story on the Manchester Evening News Facebook page. I made a comment regarding the Rowntree's Cabana chocolate bar wishing it would also make a come back. Likes and comments agreeing followed so I thought it's worth a shot?! So let's see if people power can get our caramel, coconut and cherry pieces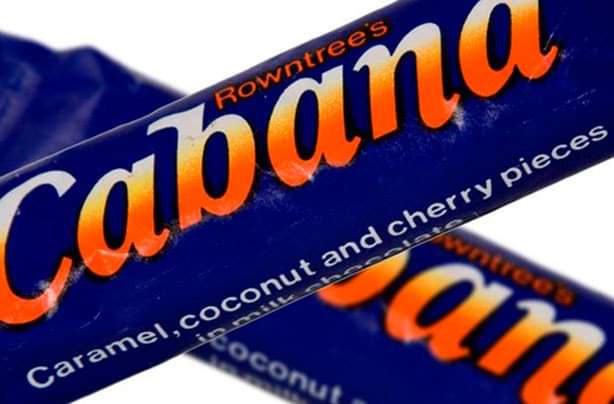 wrapped in milk chocolate bar returned to our shop shelves!!!! 
Sign this Petition
By signing, I authorize Rowntree's to hand over my signature to those who have power on this issue.
---
Is there something you want to change?
Change doesn't happen by staying silent. The author of this petition stood up and took action. Will you do the same? Start a social movement by creating a petition.
Start a petition of your own
Most popular petitions in last 7 days
Tate aged 6 was hit by the bus at churchill centre redditch. others have been hit even killed at the centre why should anymore people suffer from the consequences of the dangerous road. the area has a crossroad and a brow of hill so it needs safe speed measures put into place, there is a school on the bus route and many children cross that road so for the safety of the people we are running this petition to keep peoples lives safe so they dont end up like Tate. Please help us to get some traffic
Created: 2020-08-10
| Time period | All countries | United Kingdom |
| --- | --- | --- |
| All time | 420 | 419 |
| 7 days | 420 | 419 |
Further to announcements that face masks will be mandatory in Northern Ireland, The signatories on this petition are calling for an end to the dictatorship of the Stormont executive and public health officials who are infringing our inalienable human rights as set out in the Human rights act 1998. The Northern Ireland Act 1998 sets out the legislative competence of the Northern Ireland Assembly and states that the Assembly may not legislate in a manner that conflicts with the European convention
Created: 2020-07-17
| Time period | All countries | United Kingdom |
| --- | --- | --- |
| All time | 1100 | 1060 |
| 7 days | 256 | 248 |
At the end of June residents of Mon Bank were greeted with diggers and workers from Aldi assessing the grounds at the front of our estate (looking towards Belle Vue Park). Upon contacting Aldi we've been told that a public consultation will be taking place, however we would like to prevent this proposed supermarket from progressing any further NOW! To date local residents have not been officially informed of any plans, there is a tiny piece of paper which Aldi put on a post near the area confirm
Created: 2020-08-08
| Time period | All countries | United Kingdom |
| --- | --- | --- |
| All time | 186 | 186 |
| 7 days | 186 | 186 |
Given the current circumstances due to Covid-19, and the financial and social disruptions this global pandemic has been causing worldwide, we are asking the University to show some flexibility and be understanding towards its students residing outside of the U.K. It seems unreasonable to have students pay rent, life expenses, and travel expenses in order to attend a one-hour seminar/tutorial maximum 3 times per week. Where lectures are delivered online, thus the majority of the working week will
Created: 2020-08-08
| Time period | All countries | United Kingdom |
| --- | --- | --- |
| All time | 154 | 103 |
| 7 days | 153 | 103 |
The purpose of this Petition is to request that the United Nations or SADAC intervene into the chaos currently occurring in Zimbabwe. We can all clearly see that human rights are being violated and there are no fair Elections taking place. We want transparency and the figures are not making sense at all. We need individuals or organisations other than the current Zimbabwean government to clear up this mess because they are evidently not taking any form of control to counteract the problems that
Created: 2018-08-01
| Time period | All countries | United Kingdom |
| --- | --- | --- |
| All time | 2965 | 259 |
| 7 days | 640 | 55 |
We The Undersigned Petition North Lincs Council to Release the Funding Agreed In  2015 to provide a Bypass for the village of Burringham.The village of Burringham is experiencing large amounts of through traffic,more is now expected with the Seven Lakes Development and the bypass is required urgently to minimise the effect on local residents.In 2 hours just under a thousand vehicles passed through our village,please help to get this stopped.                   
Created: 2020-08-07
| Time period | All countries | United Kingdom |
| --- | --- | --- |
| All time | 51 | 51 |
| 7 days | 47 | 47 |
Following recent issues, the Coach & Horses has lost its licence. These were nothing to do with the landlady of 18 months, Samantha Nelson.  Please support her totally responsible and professional stewardship of the pub during this time and her vision for the future of Harrogate's most popular "boozer". As the town's "Rovers Return", the Coach has a hugely important integral role in the community. The Coach & Horses is embedded in Harrogate culture and adds so much value to the town as a
Created: 2020-07-29
| Time period | All countries | United Kingdom |
| --- | --- | --- |
| All time | 412 | 401 |
| 7 days | 45 | 44 |
Many areas around Carlisle have the benefit of village councils, but Stanwix does not. It would have a major input to local development planning proposals. It would build community spirit, civic pride and disaster resilience. Please sign below (you may indicate whether you would like your name displayed publicly, or undisplayed as you wish):  ---- We, the undersigned, feel that Stanwix should have its own Village Council.
Created: 2020-08-07
| Time period | All countries | United Kingdom |
| --- | --- | --- |
| All time | 38 | 38 |
| 7 days | 32 | 32 |
For 30 years our orchestras and choirs have brought joy to thousands of people and raised millions of pounds to support the work of St Martin-in-the-Fields and the homeless. Now in the midst of a global pandemic with no consultation we have been informed by email, by the Director of Music at St Martin-in-the-Fields, that our concerts will end and that evening concerts will be in-house only. We have effectively been summarily dismissed. We call on people of all faiths and none to support our call
Created: 2020-07-09
| Time period | All countries | United Kingdom |
| --- | --- | --- |
| All time | 1301 | 1182 |
| 7 days | 22 | 21 |
Please take a moment to add your name this vital campaign. Barton Road (lower) in Torquay is a residential, family area of our town, a road frequented by hundreds of primary and secondary school children every week on their walk to school.  Currently Barton Road (lower) has in place, completely ineffective speed reducing measures, with wide and low split speed humps from the area of Torre Academy Primary, ending at the narrowing of the road at the Torre Marine Estate. Vehicles are frequently tra
Created: 2020-08-13
| Time period | All countries | United Kingdom |
| --- | --- | --- |
| All time | 18 | 18 |
| 7 days | 18 | 18 |
PetitionOnline.uk
We provide free hosting for online petitions. Create a professional online petition by using our powerful service. Our petitions are mentioned in the media every day, so creating a petition is a great way to get noticed by the public and the decision makers.