Stop the deportation and guarantee the protection of Alireza Hassan Beigi against a death sentence in Iran!
Alireza leaves Iran after converting to Christianity. Under Iranian law, Muslims are not allowed to change their religion. He arrived in Bulgaria in 2021 and applied for international protection in Bulgaria in January 2022. Lawyers from the Center for Legal Aid - Voice in Bulgaria and social workers from the Missio
n Wings Foundation have been actively working on his case for nearly a year and a half. The State Agency for Refugees (SAR) rejected his application for protection, claiming that his refugee story did not sound credible. The SAR's decision says that "the general situation in Iran does not give rise to a fear of persecution within the meaning of the Geneva Convention". The denial of protection has been upheld by two courts and comes into effect in October 2022. In the meantime, on 05.06.2023, a new judgment of the Islamic Revolutionary Court, issued in absentia on 08.04.2023, sentenced Alireza to death. It stated that he had re-offended, after initial remorse and pardon, with a fine imposed for acting against the order of the Islamic system, insulting and insulting the Islamic saints, Prophet and Imams through Christian proselytizing (spreading the Christian religion) and activity against the Islamic government. Alireza Beighi reapplied for protection to the S
AR due to this new circumstance, but was refused eligibility for protection proceedings due to suspicions of "abuse of the right to international protection rather than a genuin
e need for it". On 9 July, Alireza Beigi was detained in the Special Heome for Temporary Accommodation of Foreigners (SHATF) in Busmatsi at the Migration Directorate for the purpose of his deportation to Iran. Alireza's removal can take place at any moment, as the latter has a valid travel document. The agency's conclusion comes amid ongoing bloody anti-government protests in Iran at the time, sparked by tight religious restrictions. These erupted following the death of a young woman arrested for 'improperly' wearing the headscarf last September. Hundreds of people have been detained for taking part in the protests, dozens have been executed.
Alireza Beigi has found a second home in Bulgaria in the last year and a half. Here he is surrounded by a Christian community, a supportive environment, working and looking after himself, fully integrated, one of the most smiling people you could meet.
Support us in our efforts to protect him!
Thanks also to our colleagues at Svobodna Evropa and Dnevnik the for the stories on this case!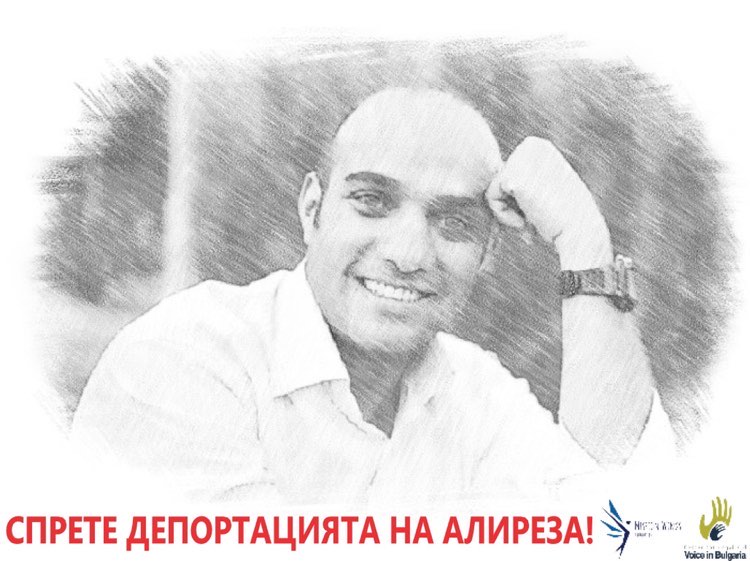 Legal Aid Center "Voice in Bulgaria" and Mission Wings Foundation Contact the author of the petition
Manage your signature
Share this petition
Help this petition get more signatures