Boston College COVID-19 Booster Mandate

Contact the author of the petition
Email BC: Drop the Mandate
2023-01-09 00:56:02
Ephesians 5:11 ESV
Take no part in the unfruitful works of darkness, but instead expose them.
Another year has passed yet Boston College continues to mandate the covid vaccine and the first booster while denying all religious exemptions. Reminder: other Catholic colleges are granting religious exemptions to these shots.
Even today, there are students whose religious exemptions were denied and they are receiving threatening emails from BC, warning them to comply or be banned from campus. 
Given all that we know about the vaccine, it's failure to stop the spread, and the number of people harmed by it, it makes no sense that this mandate remains in place. BC certainly is not following the science. 
Such threats by BC are also not in line with the teachings of Christ, persecuting, alienating, and banning or firing those who do not take the covid shots. Denying the individual's right to choose whether to take the shots contradicts the principles of the Catholic church that stress the importance of discernment.
Please take a moment to email BC and the BOD to express your outrage before we have more students and staff harmed by these mandates. Below are current members of the board. A quick search for their name might generate an email address or Twitter handle.
https://www.bc.edu/bc-web/about/trustees.html
The US Military, professional sports leagues, New York City, countless universities, and even many hospitals have all dropped the covid vaccine mandate. Why hasn't BC? 
It was a year ago today that one of our students took a booster after asking for an exemption. Not long after he suffered a stroke in his dorm room.
Proverbs 31:8-9 ESV
Open your mouth for the mute, for the rights of all who are destitute. Open your mouth, judge righteously, defend the rights of the poor and needy.
https://www.thegatewaypundit.com/2023/01/weekly-data-new-south-wales-proves-vaccine-ineffective-covid-86-deaths-80-hospitalizations-vaccinated/
BC Parents, Students, Faculty, and Alumni
Welcome to BC!
2022-09-02 12:46:47
BC Parents, Students, Faculty, and Alumni
Fight for Freedom - Support Sen Johnson's Campaign
2022-04-07 00:49:40
Sen Johnson of WI is up for reelection.
He is the only elected leader exposing the fruad behind these mandates and the dangers of this covid vaccine. We need him in the Senate to fight for our rights.
Please consider donating whateever you can and passing on this link to others.
Thank you
https://secure.winred.com/ron-johnson/kirsch-fight-for-freedom
BC Parents, Students, Faculty, and Alumni
Comment on BCs Facebook Post
2022-03-30 00:10:49
BC Parents, Students, Faculty, and Alumni
Calling All Doctors/Nurses
2022-03-24 00:16:53
Good Evening,
If any parents who are licensed physicians or nurses contacted BC to warn them of the dangers of this vaccine, would you please email us privately?
Again, we are looking for any doctors or nurses who warned BC, either in writing or over the phone, about risks these shots posed.
Thank you!
BC Parents, Students, Faculty, and Alumni
Fired Professor
2022-02-25 02:06:47
Men & Women for Others.....
Boston College fired an English professor yesterday when he refused to get the covid booster shot.
The professor took the first required vaccine, then had covid, and did not want another shot. 
But Boston College said no. 
Please email the Dean of A&S who fired him, Dean Greg Kalscheur, SJ, and let him know what you think of him terminating this Professor. We know it's not about health - the professor had covid, the very thing the vaccine claims to protect against.
Dean Kalsheur's contact info:
Telephone: 617-552-2393
Email: gregory.kalscheur.1@bc.edu
Thank you
BC Parents, Students, Faculty, and Alumni
Our Letter to the Boston College BOD
2022-02-08 19:16:36
Letter sent to BC Board Members. Please email as well. Email addresses at the bottom.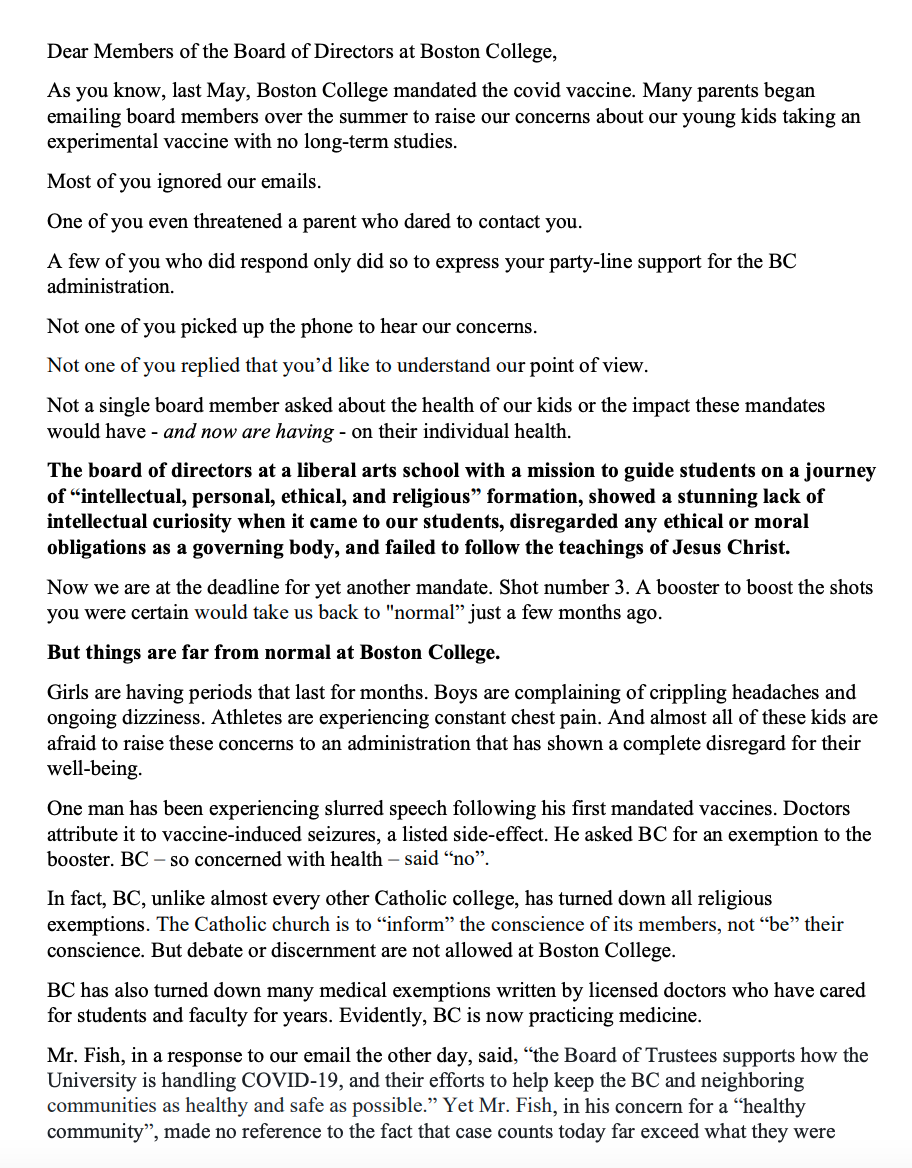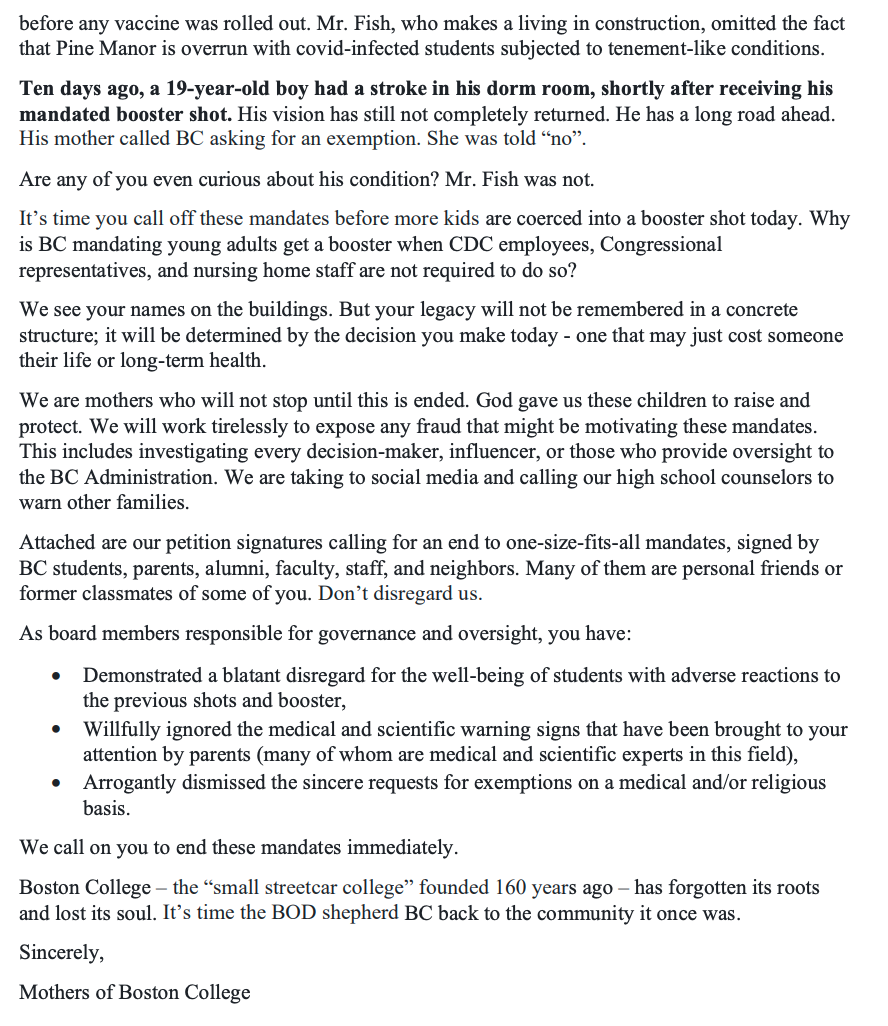 CHAIRMAN
Other Board Members:
elisawilson3 at gmail dot com
nicholas_burns@hks.harvard.edu
BC Parents, Students, Faculty, and Alumni
Boston College Deadline Tomorrow - Email Today!
2022-02-08 12:33:05
Dear Petition Signers,
Father Leahy has yet to respond to a single call or email sent by parents, students, staff, or alumni. Several parent-doctors left messages as well. No reply. You'd think if this were really about health, he'd want to speak with them. His secretary told one mother last week that he is not interested in "vax calls".
He has yet to reach out the student who had a stroke. Not even an email. 
The school sent this threatening announcement to students last night: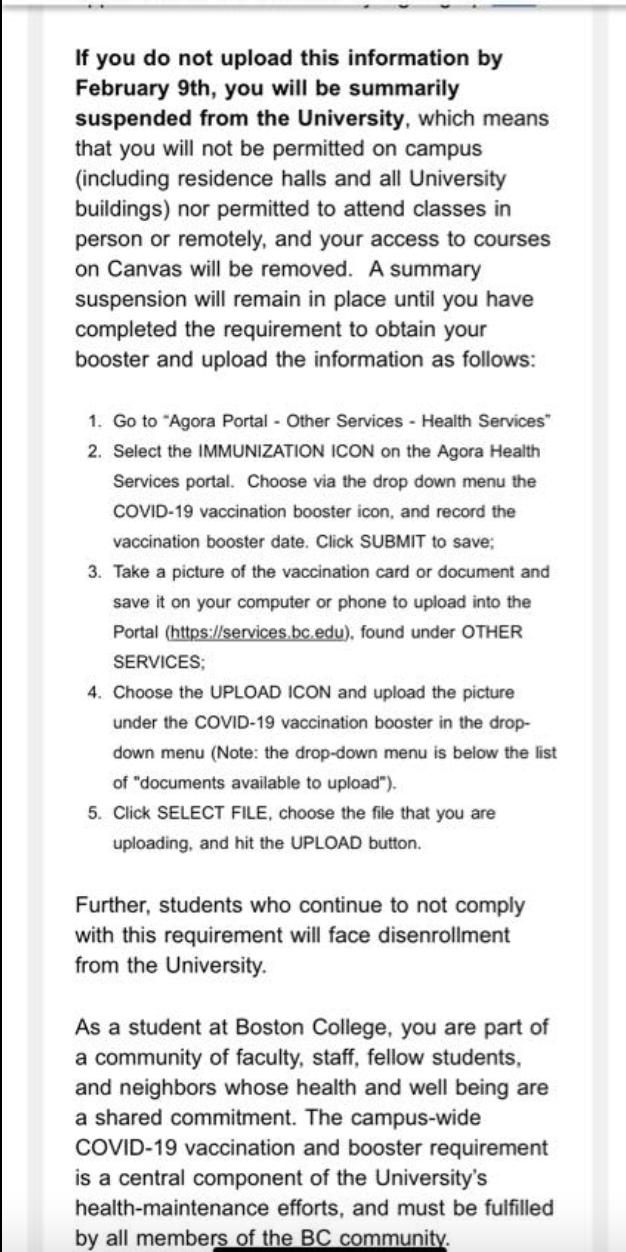 This underscores BC's disdain for the student body, faculty, and staff. 
It's clear these vaccines are both unsafe and ineffective. BC continues to outpace its covid case counts, which is ironic, given that their reasoning for this mandate is to "keep the community safe".
We continue to hear from students who have had serious adverse reactions to this vaccine. We have heard from parents - who are medical doctors - who shared that they reached out to BC on several occasions to report what they were seeing in young people following vaccination in their own practices.
Last Week: 416 positives, 394 of which are undergrads and a positivity rate of 4.84%
There have been over 2,500 cases this school year. The first week of school there were 9 undergrad positive cases.
A student had a stroke in a dorm room and the same people who justify these mandates (citing their concern for health) don't even call him to check on his health!
We are exploring all financial connections that the school has until we uncover the motivation behind this mandate.
We have reached out to the Board of Directors. We hope you will take the time to send them an email today as well, before another person is injured. Their email addresses are below.
Please see one email exchange between one parent and John Fish, Chairman of the Board (pasted below).
Men and Women for Others may have been abandoned by Father Leahy and the BOD, but it cannot be by each of us. Many will lose their job - or health - tomorrow.
Please email today.
Thank you
CHAIRMAN
elisawilson3@ g mail . com
nicholas_burns@hks.harvard.edu
mascione@berkshirepartners.com

Mr. Fish,
I understand that you stand with BC. But please remember that we're part of BC too. Standing with BC should not assume that every member of the community shares a singular, absolute position on a very complicated issue focused on an individual's personal health. 
By "standing with BC" the board and administration are ignoring the serious medical concerns that have been brought to your attention. For example, are you aware that a week ago, a sophomore student had a stroke not long after his covid booster? He did not want that booster but did so to comply with BC's rules. 
We have called Father Leahy's office and emailed him for months but have yet to get a reply. His assistant told one mother this week that he's "not interested in vax calls". A student had a stroke and he's "not interested" in our calls?!
There are countless BC girls who are now having periods lasting for 8 weeks or more since they got the vaccine that BC mandated. But Father Leahy is "not interested"? 
I believe you have daughters. Can you imagine being dismissed if something happened to one of them after complying with a school policy? 
If this is really about health, BC should be soliciting feedback from families, not shutting them out.
There is another individual whose speech has been slurring since his shots last summer. The doctors think it's due to seizures following the vaccines he took to comply with BC's mandate. Yet Father Leahy is "not interested"? 
We were not interested in our kids getting these vaccines. But we did so to comply with BC. And now they're sick and neither the BC administration nor the BOD holds us in enough regard to address our concerns.
BC students are being mandated to get a third shot. What could possibly be the reason that BC has elected to mandate boosters on young college kids when even the CDC and nursing home employees are not required to do so?
The data shows that this age group is not at risk for serious complications from covid. It does show that they are at serious risk for adverse reactions from this vaccine. BC is ground zero now that a student had a stroke in a BC dorm room. How many times has that happened in BC's history? 
Doesn't this concern you as the chairman of the board? As a father? As a human being? The idea of the board is to provide governance, checks and balances and to protect the school. Ignoring what we have brought to your attention protects no one.
BC has denied all religious exemptions. Why is that? We have piles of emails from Fr. Butler and Fr. Penna corresponding with students and parents. 
BC has also denied many medical exemptions. Is BC now practicing medicine? Are the students your patients as well?
We have emails from parents (who are doctors) that they personally sent to Health Services last semester. In those emails, they warned them of what they were seeing in college-aged kids following covid vaccination. 
The boy who suffered the stroke only took the shot to comply with BC. His mother even called Health Services to express her objection but was told there was no way out. He's now a stroke victim who has lost part of his vision that may never return. He's 19 years old.
Covid case counts are higher right now than they were a year ago when there was no vaccine. This underscores that it's not working.
Why is BC not calling off this booster mandate? Is there a financial motivator? We know it's not health. Pine Manor is overrun with boostered kids who now have covid.
We are the mothers of these kids. We will not stop until we find someone willing to address this and call off the mandates.
You all can end this now and try to regain the trust of BC families. And most importantly, you can do so before more kids are harmed.
We hope you will consider meeting with us.
Thank you
BC Parents, Students, Faculty, and Alumni
Please join our Call-it Off Campaign
2022-01-31 23:07:32
We need your help! Please take a time tomorrow at the attached linke below to call Fr. Leahy and Mr. Lochead's office and express your disagreement with their mandate.
You don't have to give your name if you'd rather identify as simply a parent, alumni, etc....
It's all hands on deck to stop this.
https://www.signupgenius.com/go/10c0e4daea923a4f8c43-call
Thank you!
BC Parents, Students, Faculty, and Alumni
JOIN OUR VIRTUAL SIT-IN!
2022-01-31 03:34:52
We've surpassed
1,000 signatures
on our petition so now t's time to
CALL IT OFF!
We are organizing a sit-in
- virtual style - to
raise our concerns
to the Boston College Administration.
Please join us in calling BC all week
,
starting tomorrow morning
, to express our concern about these mandates.
Please see the linked sign up sheet below.
You can
pick a time slot (or slots) to call BC
. We want them to hear from us around the clock until they call off these mandates and
before another student, faculty member, or staff is harmed.
If you're not sure what to say
, please see some
suggested
language below.
We hope you will take a slot to call as
we only have days to stop this mandate
.
You can sign up for more than one slot (i.e choose the same time each day to call).
To take a slot in this CALL IN, please go to:
(Your name and email are not shown or shared and you can use another name - Sophomore Mom - for choosing your slot).
Please comment below if you are joining us and why!
I am a Boston College (parent/student/alumni, class of XX) and I'd like to get a message to Fr. Leahy…
These mandates are medically unnecessary and they will harm more kids like the student who suffered a stroke last week.
Until you drop these mandates, we will continue to apply public pressure to expose the risk you are putting these students at, as well as withhold any planned financial support we had intended to give to the school.
BC Parents, Students, Faculty, and Alumni