Opposing Rezoning Application - 10 Msenga Rd Kloof
We, the undersigned, hereby object to the Application posted on the gate of the property at 10 Msenga Rd Kloof.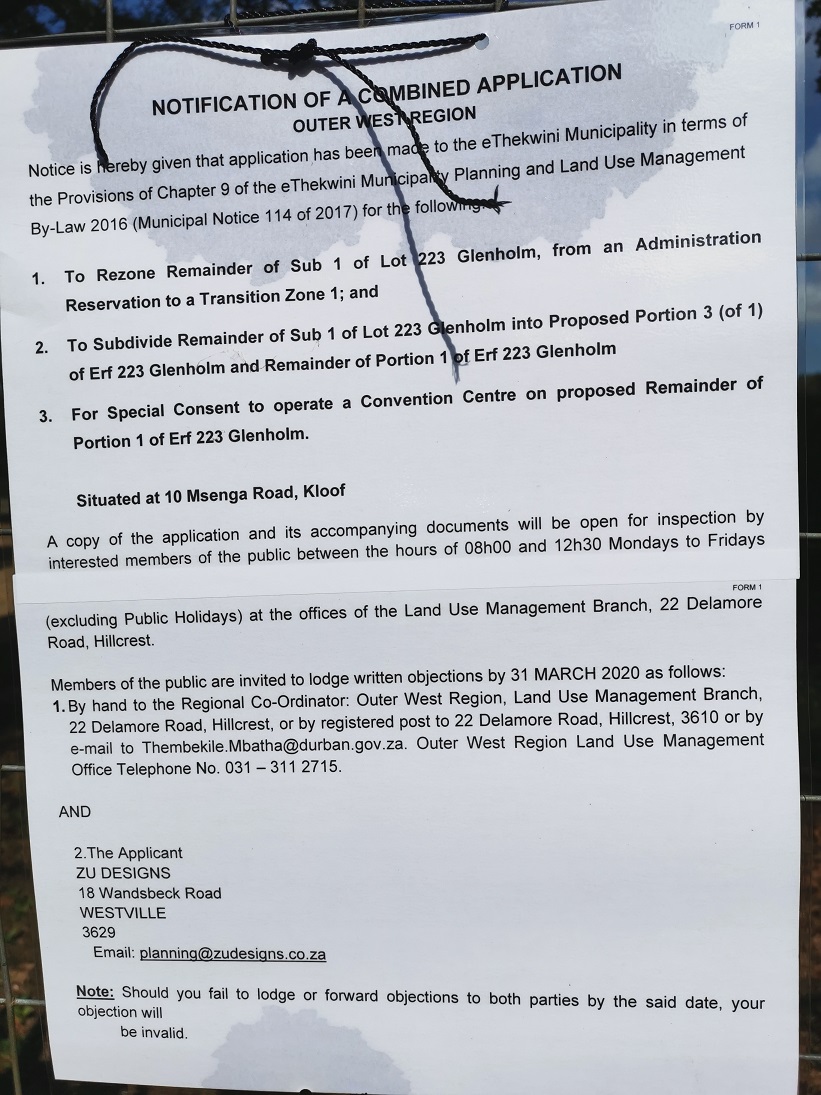 Our reasons are as follows:
1. It is surely misleading for a "church" to zone as a Convention Centre? As Kloof and Highway residents, we are aware that despite Kurai Consulting being the official applicant, the real applicant is Grace Gospel Church who have been using this property for worship purposes since 2018. (See their website advertising church services at same venue - https://gracegospelchurchsa.org/contact-us/ ) Place of worship is excluded from Transition 1 Outer West Scheme. The scheme intention states that a Transition Zone 1 is meant to provide for office development as the primary development. A church meeting regularly for worship and other meetings has a very different purpose from offices and a "Convention Centre" for which the applicant is seeking special consent. The "gathering" description in the Outer West Scheme for Convention Centre surely does not cover regular church services and meetings, since "Place of Worship" is excluded from Transition 1 zoning. We assume nearby churches like The Catholic Church, Kloof Baptist Church, St Agnes Anglican and Open Skies Church are zoned "Place of Worship" because that is what they are.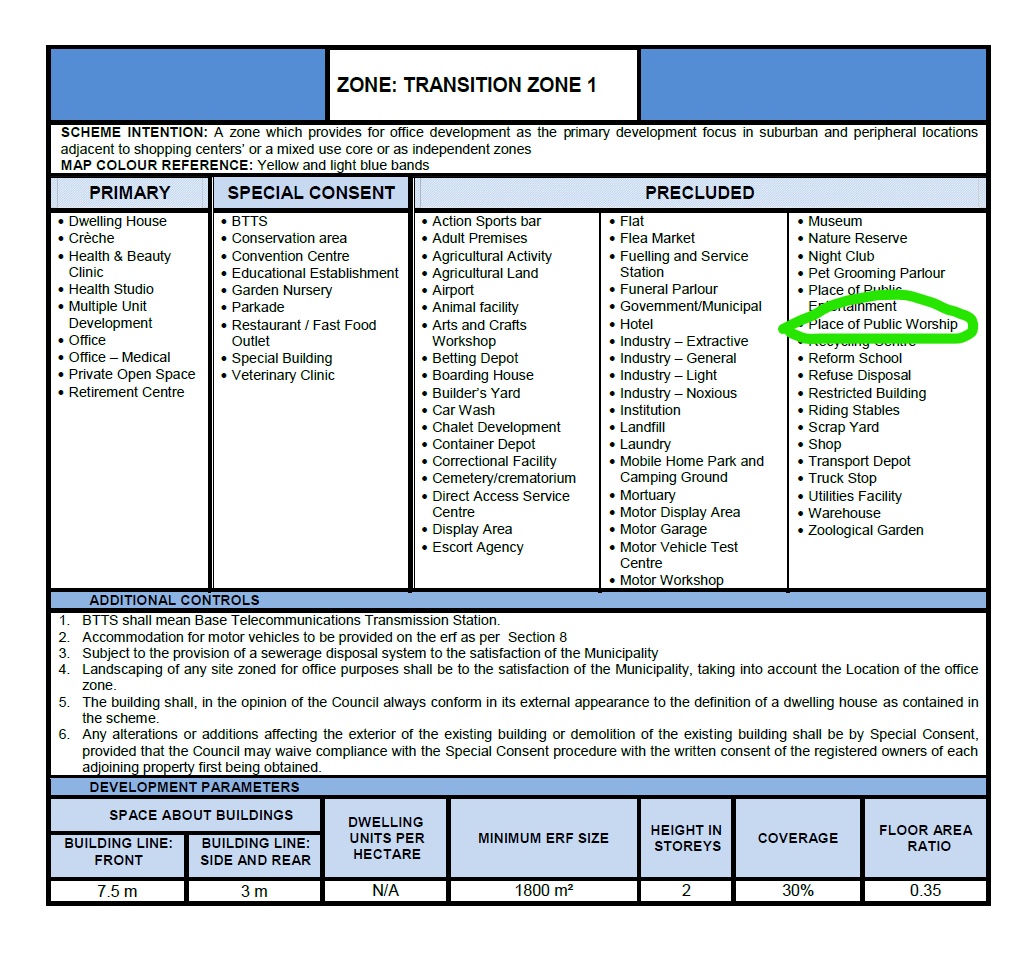 2. This "church" has a suspicious history in terms of zoning. This is the same church that, in 2011, was exposed for misleading neighbours in the zoning application for a property in Waterfall. The same applicant, Kurai Consulting, was involved. Neighbours were told the plan was for a small, special school. Then it became apparent that this was Grace Gospel Church, planted from Mauritius, a controversial church that had been exposed as cultish in local schools and churches, on Carte Blanche, East Coast radio and in the press. Neighbours were upset at being deceived and decided to take the matter to the press. After stating in the press that the deal had nothing to do with Grace Gospel Church, church leaders and key members then met with the community and admitted there would be church services and attempted to sell themselves. (The meeting was recorded by a neighbor) Neighbours then engaged Conomirra and objected to the zoning. The applicant's original town planning consultant, from a reputable firm, withdrew when he became aware of the ruse. In the final hearing, held years later in May 2013, the press indicated that "Lawyers for the applicant, Kurai Consulting flatly denied the intended formation of a church and argued that Conomirra's claim was based on speculation and conjecture." (Lachlan Nicholson - Hillcrest Fever 7 May 2013) A blatant contradiction of what was communicated by this church to neighbours.  As Kloof and Highway residents, we do not want to see a repeat of these dubious practices.
3. Not only Kloof residents but the wider Highway community, schools and churches have united in expressing concern about this "church".  They have been exposed on Carte Blanche, East Coast Radio, many press articles, a Masters thesis by a pastoral therapist, DSTV's "Openbarings", journal articles and paper delivered at the International Cult Studies Association's annual conference in Barcelona.  Families have been personally and adversely affected for years by the influence of this church. (see  https://www.ctmiconcernedparents.com/) The Highway community, which previously united against this "church", would be concerned to know that this group, having been asked to leave a number of venues they were using 2008 – 2012, had established a foothold in Kloof "through the back door". (St Mary's was significantly impacted by them and an informed local pastoral therapist was asked to address the school on the issue) For eleven years they have refused to respond to requests from families and pastors to address serious issues.
4. Grace Gospel Church is a plant of Church Team Ministries International (CTMI), a Mauritius based "mega church", known for conducting large conferences regularly. Leaders and members are perpetually flying around the world to attend these conferences. (Video evidence is available on their website.) Msenga Rd is a quiet, primarily residential street, entirely unsuited for the large conferences they are known to conduct. The road is narrow with two vehicles barely able to pass each other without use of the verge. They have applied for a 250 seater conference facility. Our information is that the nearby, much larger Makaranga facility is authorized for only 40 delegates.
5. There is no shortage of conference facilities in a number of surrounding church buildings, B&B's, office complexes and Makaranga. CTMI themselves previously hired the nearby St Agnes church hall for a large conference. However, their isolation from local pastors fraternals and the unfortunate name they have created for themselves now prevents them cooperating with other churches. The plan is most likely similar to their commercial Trianon conference centre in Mauritius. (This was built under the auspices of being a church. The Mauritian press then questioned how a building that was constructed with financial "religious benefits" could now be hired out for commercial profit. http://tcc.mu/)
6. The road and utilities infrastructure is already under strain in the area. Old Main Road (which runs parallel to Msenga Road) is already burdened by excessive traffic volumes. Old Main Road was historically a residential road. Many of the residences have in the past years been converted into office complexes. Those conversions have increased traffic flow drastically whilst the character of the road has largely been retained – large trees and sidewalks. By retaining the character of the road, visibility has been impaired, and it is a daunting task to join Old Main Road from one of the office complexes, let alone from Msenga and Heyfield for vehicles carrying 250 members/delegates.
7. The Old Main Road precinct has also suffered with several electricity problems recently, outside normal load-shedding. As a result of the office complex developments in the road, the municipality's supply has become constrained, which has led to phase problems. In short, complexes have lost part of their power supply on a regular basis. This has resulted in either lights and no plug power or plug power and no lights. In either event, air conditioning systems invariably fail.
The operation of a convention centre will certainly add to the burden on the already strained electrical infrastructure.
In short, the electrical infrastructure will have to be upgraded in order to accommodate yet another development as will the road infrastructure. The road infrastructure, in particular, will by necessity require the removal of large trees, the trunks of which impede the view of drivers joining Old Main Road in the vicinity of Msenga Road. This would detract from the original and intended ambiance of Old Main Rd.
Summary
 The transparency and legality of the zoning is questionable
 Kloof does not need another Conference Centre
 The "church" behind the application has been exposed worldwide as cultish and has a chequered history in the Highway area
 The roads, infrastructure and residential ambience of the location does not suit a Conference Centre
| | |
| --- | --- |
| | The author of this petition has closed this petition. |