Help Reinstate 53A Bus service for Thurnby Lodge. We want send this Petition to Leicester city council and Arriva asking to include Brook Road on their scraptoft routes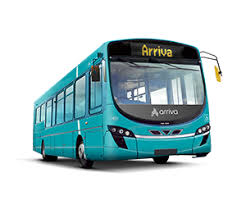 Help us to reinstate a better bus service for Thurnby Lodge for the residents on behalf of the community living in the Thurncourt court road, Flamborough Road and Brook road. Bowhill grove area of Thurnby Lodge Leicester.
We are disgusted and
bitterly disappointed with Arriva East Midlands Bus service they
removed our 53A Brook road service in April last year. We took this to
our local Councillor and we completed a 300 strong signed petition
over a period of six months to fight to have this vital service
reinstated.
Arriva was apparently handed our Petition and this was lost.
Arriva agreed to reinstate the service back to normal
in January 2018. We have recently learned that this will no longer be
happening.

My parents both live on Brook road and both have medical issues
and like many other elderly residents, they struggle or can't walk 400
yards to Nursery road or walk up the hill to Scraptoft Lane.
Since they
have lost this bus service like many other elderly and disabled people
in the area of Brook Road and surrounding area are now having to
use taxis to access Uppingham road shops or to other parts of the
estate to visit family & friends or other social activities.

Arriva need to be held to account as the government subsidizes the
free travel for the elderly and people with disabilities as to why these
people have been left out in the cold waiting for a bus that never
comes. I also would like to know why Arriva didn't arrange for a suitable
replacement company to step in seeing as Arriva can't step up to the
needs of the public. I am sure that city mayor Peter Soulsby would
question why residents in some parts off Leicester can't get into town
without added expense to see attractions within our city centre.

Thank You 
Kind Regards
John Tulley
Sign this Petition
By signing, I authorize John Tulley (Editor of Thurncourt News) to hand over the information I provide on this form to those who have power on this issue.